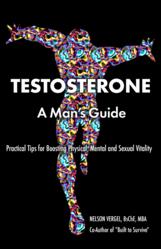 What Nelson Vergel has done is to distill difficult-to-find medical information in simple terms for anyone to understand and apply it to their health- Dr Shannon Schrader- Houston
Houston, TX (PRWEB) April 18, 2012
"Testosterone: A Man's Guide- Practical Tips for Boosting Physical, Mental and Sexual Vitality" (Milestones Publishing, available on amazon.com) has been recently published to educate men about testosterone deficiency, its symptoms, diagnosis and treatment, with practical "how-to" information generated by an empowered patient and treatment advocate after 20 years of research.
The overall prevalence of testosterone deficiency (hypogonadism) in the United States is approximately 39 percent in men 45 years or older according to the 2006 Hypogonadism in Males (HIM) study, one of the largest studies ever done on testosterone deficiency. Recent estimates show that 13 million men in the United States may experience testosterone deficiency, although fewer than 10 percent receive treatment for the condition. So why are so few men receiving treatment for hypogonadism? This alarming low rate is not surprising since most men feel awkward about talking to their doctors about the two main symptoms of testosterone deficiency: depression and sexual dysfunction. And when they do, sometimes they encounter resistance from doctors that are not well trained in managing testosterone replacement therapy.
"What Nelson Vergel has done is to distill difficult-to-find medical information in simple terms for anyone to understand and apply it to their health," said Dr. Shannon Schrader, a well known physician in Houston. "It is rare to have self-empowered patients become experts and advocates who then make it easier for everyone to learn from their experiences. Nelson has been doing that for 20 years and now he packages his experiences to help men to get a better understanding of testosterone," added Dr Schrader.
"There are several books on testosterone written by doctors that are too medical or not practical enough for patients," said Fred Walters, founder of the Houston Buyer's Club, a nutritional supplement company. "As patients, we have been waiting for someone like Nelson to give us practical information on this important subject in layman's terms. I am glad that he has been able to save many of us time and costly mistakes when navigating through the complex issues of testosterone replacement. He is living proof of his work," added Walters.
"In my work as a lecturer and patient advocate, it has amazed me to see so many men suffer needlessly for years before finding out that their physical and sexual fatigue could be reversed easily by the safe use of testosterone," said Nelson Vergel. "I hope my book clarifies fears that men and their physicians have about testosterone causing prostate cancer, liver problems, rage, and other side effects that have yet to materialize in any research studies"
If are you or someone you know having these problems:

Fatigue and low or no sex drive?
Less mental focus?
Less tolerance to stress and feel down?
Fat gain and muscle loss
No improvements in body after exercising for months
Are afraid of testosterone replacement due to lack of information
Then, this book may help.
This book will explain in clear and practical language the symptoms and treatments of testosterone deficiency to help determine if you are a good candidate for this therapy. Testosterone replacement therapy (TRT) can dramatically boost sex drive and function, strength, energy levels, mood, mental focus, and lean body mass while decreasing fat in men with testosterone deficiency syndrome (hypogonadism). However, it is not a therapy to start without proper knowledge about potential side effects and their management. There are several options for testosterone replacement available by prescription but many men do not know how to decide which is best for them. This book reviews all options from the author's point of view as an educated patient who has used all available options and has researched the current scientific data. Al myths and misconceptions surrounding testosterone are fully explained and resolved.
After reading this book you will know:
If you have low testosterone blood levels
What your best TRT option is more suitable for you, if you need one.
How to avoid the main mistakes that men make when using TRT
How to identify and treat potential side effects before they become a problem
How to talk to your doctor about getting TRT, or how to find a doctor who prescribes testosterone
What foods and medicines can lower your testosterone
The truth about non-prescription testosterone boosters
How to apply for financial assistance from testosterone manufacturers
What compounding pharmacies are and how they can customized TRT options for you
About the author: Nelson Vergel, BsChE, MBA, is practicing what scientists can only theorize. He started testosterone replacement therapy in 1993 as a desperate attempt to survive and overcome wasting syndrome. Testosterone gave him his health back which propelled him to become an expert on its use. After years of trial-and-error and self-empowerment, he is ready to share his knowledge with the world. With a chemical engineering degree, countless of hours in scientific conferences and memberships in several metabolic research and wellness groups, he was been able to digest scientific information on the subject to translate it in layman's terms for all to benefit. He is the co-author of the book "Built to Survive: A Comprehensive Guide to the Medical Use of Anabolic Therapies, Nutrition and Exercise for HIV+ Women and Men" and the founder the non-profit organizations Program for Wellness Restoration (PoWeR) and the Body Positive Wellness Clinic in Houston, Texas. He has given over 700 lectures in English and Spanish in the United States and abroad about testosterone, nutrition, exercise, aging, and general wellness to men and women.
For updates on this book and to join Nelson's email list, visit http://www.TestosteroneWisdom.com