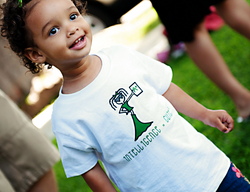 Our customers aren't just interested in buying clothing - they want to change the world, and that makes it all worthwhile.
Los Angeles, CA (PRWEB) November 22, 2010
Teuli Moja (pronounced "Tway-Lee Moe-Jah"), a company selling hip T-shirts for boys and girls between the ages of 2-4 is excited to announce the launch of its new ecommerce site. However, its mission of inspiring greatness in children is even more exciting.
Teuli Moja founder and CEO, Doyin Richards, is hoping to use his cute and hip toddler tees to inspire children to do great things. "The world is in desperate need of a paradigm shift, and I believe that starts with our children. Whenever an adult puts a Teuli Moja tee on a child, it's my hope that doing so will remind them of how truly great their kids are," said Richards.
Teuli Moja's line of boys and girls tees conveys positive messages that inspire children to achieve future greatness in a chosen field. For example, buying a 100% Juice-Free tee for a young boy is a clever way of showing that he will never resort to using steroids or illegal drugs when he achieves greatness on the baseball diamond in the future, or buying a Girl Power tee for a young girl is a great example of how you believe she can do anything that the boys can do, and probably better. No matter what the message is, Richards guarantees that it will always be a positive one. "Teuli Moja means 'chosen one' and I want to use our tees to inspire children to be the chosen one in whatever it is that interests them," said Richards. "Our customers aren't just interested in buying clothing - they want to change the world, and that makes it all worthwhile."
Teuli Moja is known for high quality 100% cotton tees, available in different of colors, and with the tags printed on the inside collar instead of the cloth tags that kids despise. The line includes styles for toddler boys and girls that are trendy, hip, clever and absolutely adorable. "At the end of the day, Teuli Moja wants to do its small part to make the world a better place for everyone – especially for children. If our tees will help to remind kids of how great they really are, while looking cool and hip in the process – then we will have achieved what we've set out to do," Richards said.
Teuli Moja's hip toddler tees for boys and girls are available on the internet at http://www.teulimoja.com, a very slick looking website that includes information ranging from how the company started to descriptions of Teuli Moja's unique set of characters.
For more information or to arrange an interview, please contact Doyin Richards at (310) 422-1395 or by email at Doyin(at)teulimoja(dot)com.
###