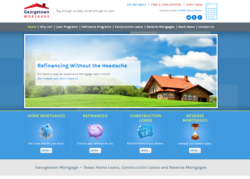 GEORGETOWN, TEXAS (PRWEB) November 21, 2012
Georgetown Mortgage Bank announces the addition of Texas adjustable rate mortgages to its home loan offerings.
Adjustable rate mortgages offer borrowers a flexible interest rate on their home loans. Typically, adjustable rate mortgages start out with a fixed interest rate for a set amount of time. After the set period, the interest rate resets periodically and shifts up and down as often as every month. Adjustable rate mortgages come with interest rate caps to protect borrowers from paying an outrageous rate if the index suddenly swings upward.
The bank offers four main options for adjustable rate mortgages: Minimum, interest-only, fully amortized 15-year and fully amortized 30-year mortgages. The options help determine monthly payments and the period of time between interest rate resets.
"Adjustable rate mortgages are a great option if interest rates are likely to fall," said Kristi France, a mortgage originator at Georgetown Mortgage Bank. "When customers call us, we assign them a personal mortgage originator who can stay with them throughout the entire loan process. Their loan originator can help them decide which type of loan will be best in each unique situation."
The loan originators at Georgetown Mortgage Bank pride themselves on caring about the well-being of their fellow Texans and strive to find the best mortgage for every borrower's situation. Click here to learn more about the bank's home loan originators.
About Georgetown Mortgage Bank
Georgetown Mortgage Bank is a full-service mortgage bank in Georgetown, Texas. The bank provides home mortgages, refinances, construction loans and reverse mortgages to people across the state of Texas. Georgetown Mortgage Bank aims to find the best mortgage solutions for its clients through the guidance of a personal loan consultant who works with the customer from beginning to end of the mortgage process. Although Georgetown Mortgage Bank offers big bank products and services, its consultants pride themselves on offering the friendly service of a local bank.
###