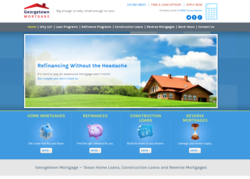 Georgetown, TX (PRWEB) December 03, 2012
Georgetown Mortgage Bank announces the addition of the Texas Cash Out Refinance loan to its home loan offerings.
The Texas Cash Out Refinance helps borrowers convert equity in their home into cash to help pay unexpected bills or make improvements in their home.
The state of Texas has a set of rules that govern the conversion of home equity into cash. These rules include that homeowners cannot borrow against more than 80 percent of the home's value.
At Georgetown Mortgage Bank, each customer is assigned a personal loan originator who works to help the customer navigate his or her home loan and refinance options. For customers interested in Texas Cash Out Refinances, the loan originator will review their situation and determine if a Texas Cash Out Refinance is the best option.
"We pride ourselves on providing the best service and finding the perfect loan for each customer," said Kristi France, a loan originator with Georgetown Mortgage Bank. "For many of our customers, the Texas Cash Out Refinance is a great option, especially with the historically low interest rates we're seeing right now."
To learn more about the refinance and loan programs offered at Georgetown Mortgage Bank, click here.
About Georgetown Mortgage Bank
Georgetown Mortgage Bank is a full-service mortgage bank in Georgetown, Texas. The bank provides home mortgages, refinances, construction loans and reverse mortgages to people across the state of Texas. Georgetown Mortgage Bank aims to find the best mortgage solutions for its clients through the guidance of a personal loan consultant who works with the customer from beginning to end of the mortgage process. Although Georgetown Mortgage Bank offers big bank products and services, its consultants pride themselves on offering the friendly service of a local bank.
###