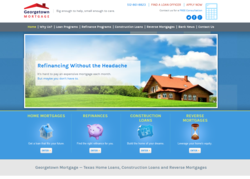 GEORGETOWN, TEXAS (PRWEB) October 23, 2012
Georgetown Mortgage Bank announces the addition of Texas construction loans to its lineup of mortgage offerings.
The bank offers construction loans for homes being built within a 130-mile radius of San Antonio, Texas.
Georgetown Mortgage Bank offers a two-time construction loan, which allows clients to negotiate the terms of their loan twice: once when construction begins, and once when construction ends, when the loan is paid back with a traditional mortgage.
The construction loans can also be subsidized through a USDA or VA loan if the recipient qualifies. With a USDA or VA loan, loan recipients may be able to finance the construction of their home with no money down.
"Not many banks offer construction loans," said Kristi France, a Residential Mortgage Loan Originator with Georgetown Mortgage Bank. "And even fewer offer loans for those eligible for VA or USDA construction loans. We're proud to be able to offer this service so that more Texans can realize their dreams of building their own homes."
Unlike other loan companies, Georgetown Mortgage Bank provides each applicant with a personal loan originator who works with the applicant to find the loan that best meets his or her needs without charging excessive fees.
About Georgetown Mortgage Bank
Georgetown Mortgage Bank is a full-service mortgage bank in Georgetown, Texas. The bank provides home mortgages, refinances, construction loans and reverse mortgages to people across the state of Texas. Georgetown Mortgage Bank aims to find the best mortgage solutions for its clients through the guidance of a personal loan consultant who works with the customer from beginning to end of the mortgage process. Although Georgetown Mortgage Bank offers big bank products and services, its consultants pride themselves on offering the friendly service of a local bank. To learn more about the bank's loan programs, click here.
###