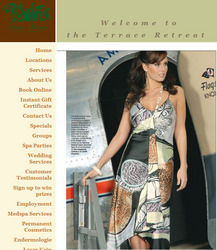 What should I give my husband for Valentine's Day?
Colleyville, TX (PRWEB) February 11, 2010
As women everywhere wonder, "What should I give my husband for Valentine's Day?" and men look for an easy way to show their sweethearts how much they're appreciated, a Texas spa retreat, voted one of the top 200 spas in the nation, has the perfect solution: instant spa gift certificates that are even more affordable with this month's promotion at Terrace Retreat Salon & DaySpa.
Located northeast of Dallas/Fort Worth--in the heart of downtown Colleyville in a circa 1938 cottage retreat and at the Hilton Hotel in Southlake, Texas--this day spa offers services that make ideal gifts for women and men. Whether for Valentine's Day, birthdays, Mother's Day and other anniversaries of the heart, clients can easily custom order, purchase and present Terrace Retreat day spa gift certificates. Dallas and Fort Worth area residents can also save with this month's promotions.
"It's great when clients come in for the first time and leave feeling rejuvenated and pampered, and we think day spa gift certificates are a great way to go for just that reason. What better way to tell her--or him--how much you care than with an aromatherapy massage or an uplifting pedicure?" asks Adams.
As with most day spas, the clients who take advantage of these Dallas/ Fort Worth spa services are mostly women, but Adams encourages men to give these services a try. Couples can also make appointments to enjoy pedicures, facials, massages or other services together at Terrace Retreat.
"We have a mostly female client base, but that doesn't mean men and women don't love the services here once they experience them. Men come in with their wives for couples' pedicures, for example, and both are delighted with the experience and the results!" says Terrace Retreat owner Anne Adams.
Spa deals are posted monthly, and visitors to the Texas spa retreat website are encouraged to check back often for deals. In February, Terrace Spa is offering Sweetheart Deals on Men's Express Haircuts, manicure/pedicure packages, Classic Facials, and a complimentary cut with any highlight or color. Customers can also book day spa services online and sign up for one of the many "Sweet Relief" and "Sweetheart" packages.
Skin care, therapeutic massage, manicure and pedicure, spa body treatments, hair design services and MedSpa services are all available at each location and provided by a team of highly trained medical and aesthetic professionals. Instant gift certificates, February promotion details and a full list of Terrace Retreat services are available at the terraceretreat.com website.
About Terrace Retreat Salon & Day Spa:
One of the finer day spas in North Texas, Terrace Retreat caters to men and women from its two locations northeast of Dallas/ Fort Worth. Spa services and a range of body care products are available at the Hilton Hotel in Southlake Town Square, 1400 Plaza Place, with the MedSpa located nearby in the Southlake Town Square. Clients can also take advantage of the Terrace Retreat full menu of day spa services in the heart of Colleyville, Texas.
###