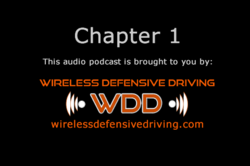 "Our Texas Approved Defensive Driving Course is made for mobile devices"
Dallas, Texas (PRWEB) January 21, 2013
Developed by the same team that brought the first online Texas defensive driving course, a new site, WirelessDefensiveDriving.com, has been developed to utilize the most current information about driver safety in the easiest form to understand – the spoken word. Recorded by professionals to be informative and entertaining, the course is to be downloaded and enjoyed while meeting all the requirements of the State of Texas for ticket dismissal.
The course is structured in a series of 11 podcasts and vidcasts that can be downloaded to any mobile device, PC/MAC or laptop. While the course can still be taken the traditional way by using a PC or MAC, the innovation is in the ability for mobile devices, smartphones or tablets to download the course and take it on the road, while jogging, commuting or even while doing other chores.
The company founder, Kyle Collins, has been a leader of the Texas defensive driving industry for more than two decades with a string of successes and innovations. His vision has always been to make the defensive driving course as pleasant as possible so that more drivers would not shy away from it. His goal has always been to educate and instruct drivers to become safer and more defensive. "A more careful driver is a better driver" states Mr. Collins, "Particularly in these days with so many distractions constantly taking our senses away from the driving task, it never hurts to refresh the proper conduct and way to be a safe driver..regardless of your age"
The course material was produced in a talk show, radio interview style with a small injection of comedy making a very serious topic more enjoyable and more likely to be retained by the listeners. The course is fully approved by the Texas Education Agency and it is valid in the entire State of Texas.
Defensive driving in Texas is used by the courts as a way to re-educate drivers that have received a speeding ticket or other moving violations. With this new mobile service, drivers can now enjoy the course anywhere and at anytime, more fitting to today's busy lifestyles.
For more information about WirelessDefensiveDriving,com please visit their website or get in contact with them at 888-925-9501
WirelessDefensiveDriving.com
5470 West Lovers Lane
Dallas, TX 75209
888-925-9501
# # #