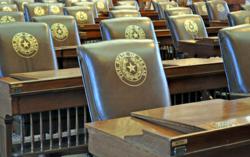 To date, there are no effective due process rights in legislation for Medicaid providers in the state of Texas when it comes to investigations for overpayments or Medicaid fraud by the Office of the Inspector General
Austin, Tx (PRWEB) February 22, 2013
No less than ten members of the Texas House of Representatives filed House Bill 1536 on Wednesday, an act relating to a Medicaid provider's right to an administrative hearing on an action taken by the office of inspector general for the Health and Human Services Commission to recover overpayments under the Medicaid program. The bill was authored by Rep. Bobby Guerra, Rep. J.D. Sheffield, Rep. Sergio Muñoz, Jr., Rep. Philip Cortez and Rep. Cecil Bell. Bill co-authors are listed as Rep. Nicole Collier, Rep. Pancho Nevárez, Rep. John Raney, Rep. Oscar Longoria and Rep. Justin Rodriguez.
"This is something we have been working towards and we heartily thank the members of the House for filing this bill for all Medicaid providers," applauded newly appointed TDMR Director of Public Affairs Richard Garza.
The bill enshrines the right of a Medicaid provider accused of overbilling the program by the Office of Inspector General (OIG), Health and Human Services Commission (HHSC), to obtain a hearing before the State Office of Administrative Hearings (SOHA) on those accusations. It also makes provision for the provider to file for a judicial review should they contest the SOHA judge's ruling and the amount of overpayment is greater than $50,000.
"To date, there are no effective due process rights in legislation for Medicaid providers in the state of Texas when it comes to investigations for overpayments or Medicaid fraud by the Office of the Inspector General," comments Tony Canales of the Corpus Christi law firm Canales & Simonson who assists TDMR. "OIG states that they provide due process but this is just informal and they really drive the system, contrary to their assertions otherwise. Despite the highly public allegations of Medicaid fraud that have been thrown around for almost the last two years, only one dental provider has been able to get a final SOHA ruling on their case. And it was bad news for OIG."
In January, Harlingen Family Dentistry (HFD) received a final decision from an HHSC administrative judge. That decision found there was no evidence of fraud in HFD's orthodontic Medicaid billings although OIG had labeled 84 out of 85 cases they reviewed as not being eligible for Medicaid and as evidence of fraud. The decision also found that OIG expert witnesses were not credible. [State Office of Administrative Hearings (SOHA) Docket No. 529-12-3180]
In the court document, the HHSC judge specifically ruled: "The SOAH ALJ [Administrative Law Judge] analyzed the evidence from the hearing, including testimony from experts from both sides, and concluded that Respondent's experts [OIG] lacked credibility when compared to Harlingen's witnesses. One of OlG's experts had not treated Medicaid patients, and had no familiarity with the score sheet used to determine whether a patient had an ectopic eruption.
"Another OIG expert, not an orthodontist, did not know how TMHP had interpreted "ectopic eruption."
"A third OIG witness, the current Medicaid director, asserted he was not an expert on the issue. He also could not explain why, in 2012, after this case arose, the rule on "ectopic eruption" had been changed. The SOAH ALJ determined that OIG expert testimony carried less weight than that of Harlingen's expert, who was the former director of the Medicaid dental program for nine years."
The Houston law firm of Hilder and Associates has been warning the state for the last two years about the lack of due process protection for Medicaid providers. In an article written for the Texas Lawyer in 2011 by Philip H. Hilder and Paul Creech entitled "Blurred Barriers in Civil, Criminal Medicaid Investigations," they wrote:
"In an effort to control Medicaid costs and at the same time combat abuse, the OAG and the Texas Legislature have created a system that has encouraged - and even required - the intertwinement of civil and criminal investigations to the detriment of the proper administration of criminal justice, which likely violates Fifth Amendment due-process limitations."
"We need to push this through to be legislation though," concludes TDMR's Garza. "No one disagrees that the State needs to be heavy-handed on fraud. As Senator Jane Nelson says "like a dog on a bone." But that heavy hand needs to fall on the guilty not on the innocent. There needs to be equally heavy protections. And in our country, that is an important distinction."