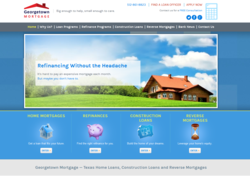 GEORGETOWN, TEXAS (PRWEB) December 19, 2012
Georgetown Mortgage Bank announces the addition of Texas FHA loans to its home loan offerings.
FHA loans are insured by the Federal Housing Administration and are great options for borrowers who have poor or fair credit histories, need low down payments, have undergone bankruptcy or have been foreclosed upon.
Borrowers can qualify for FHA loans with a down payment as low as 3.5 percent. Mortgage insurance is required for FHA loans, but, even with mortgage insurance, the monthly payment is still typically lower than that for a conventional loan product with only 3.5 percent down.
"Loans insured by the Federal Housing Administration have helped many of our customers buy a home when low credit scores might have otherwise kept them from a mortgage," said Kristi France, a residential home loan originator with Georgetown Mortgage Bank. "When someone contacts our bank to inquire about a loan, we assigned a personal loan originator who can help him or her find the right loan."
The personal loan originators at Georgetown Mortgage Bank help customers find the right loan by determining the customer's ultimate goals for the loan and reviewing the customer's credit history and other qualifying factors. The loan originators only recommend loans such as FHA loans when they provide the best solution for a borrower's unique situation.
To contact Georgetown Mortgage Bank about FHA loans or any of its other loan offerings, click here, or call the bank at 512-861-8823.
About Georgetown Mortgage Bank
Georgetown Mortgage Bank is a full-service mortgage bank in Georgetown, Texas. The bank provides home mortgages, refinances, construction loans and reverse mortgages to people across the state of Texas. Georgetown Mortgage Bank aims to find the best mortgage solutions for its clients through the guidance of a personal loan consultant who works with the customer from beginning to end of the mortgage process. Although Georgetown Mortgage Bank offers big bank products and services, its consultants pride themselves on offering the friendly service of a local bank.
###