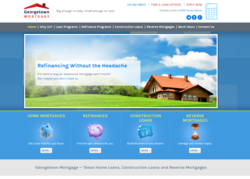 GEORGETOWN, TEXAS (PRWEB) December 10, 2012
Georgetown Mortgage Bank announces the addition of Texas fixed-rate mortgages to its home loan offerings.
Fixed-rate mortgages are the most basic home mortgages taken out every year in the United States. The term "fixed-rate" refers to the interest rate on the loan, which stays the same throughout the loan's term. Interest rates on fixed-rate home loans do not shift with an index like the rates on adjustable-rate mortgages.
"Now is a great time to get a fixed-rate home loan," said Kristi France, a residential home loan originator with Georgetown Mortgage Bank. "Interest rates are historically low right now, and a fixed-rate mortgage can lock in that low rate for the entire term of the mortgage, even if market interest rates rise."
The bank recommends fixed-rate mortgages to borrowers who plan to own the property they're purchasing for a long time because the fixed rate can protect homeowners from long-term interest rate fluctuations.
At Georgetown Mortgage Bank, every borrower is assigned a personal loan originator to guide him or her through the home loan process. The loan originators help customers decide which loan will fit their situation best. They then walk the borrowers through the loan process and are available to answer any questions that arise during the mortgage process. Click here to read about the loan originators at Georgetown Mortgage Bank.
About Georgetown Mortgage Bank
Georgetown Mortgage Bank is a full-service mortgage bank in Georgetown, Texas. The bank provides home mortgages, refinances, construction loans and reverse mortgages to people across the state of Texas. Georgetown Mortgage Bank aims to find the best mortgage solutions for its clients through the guidance of a personal loan consultant who works with the customer from beginning to end of the mortgage process. Although Georgetown Mortgage Bank offers big bank products and services, its consultants pride themselves on offering the friendly service of a local bank.
###