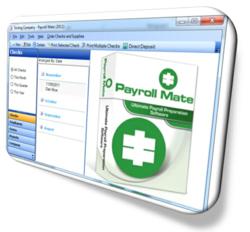 Texas employers can try Payroll Mate risk-free by visiting PayrollMate.com.
Chicago, IL (PRWEB) January 16, 2013
Developer of payroll processing systems, Real Business Solutions invites Texas employers and business filers to try the updated Texas form C-3 and C-4 filing module, introduced inside the 2013 version of Payroll Mate software.
Texas employers can try Payroll Mate risk-free by visiting http://www.PayrollMate.com.
Payroll Mate generates the TWC Tax Employer's Quarterly Report (Form C-3) in an electronic file format that can be uploaded through the Texas Unemployment Tax Services system, which allows employers with 1,000 or fewer employees to file on the Internet. Effective July 1, 2007, Texas employers with 10 or more employees or have a cumulative total of 10 or more employees in any one calendar quarter, are required to report electronically.
Payroll Mate software tracks different information related to employee payroll, paychecks and benefits including salaries, hourly payments, commissions, bonuses, vacation / sick pay; and benefits like retirement plans (such as 401K). The program also calculates federal and state withholding taxes (including Social Security, Medicare, unemployment, and disability insurance), prints payroll checks, generates direct deposit files, and exports payroll data to accounting software. Payroll Mate also supports employee reimbursements for company expenditures fronted by employees. Payroll Mate prepares payroll and tax forms 941, 940, 944, W-2 1099, 1096 and W-3. Payroll Mate also supports different pay types and frequencies such as weekly, biweekly and monthly. Payroll Mate includes password protection feature to keep payroll data secure.
Payroll Mate software highlights:

Automatically calculates federal and state payroll tax withholding.
Supports different types of pay periods including weekly, biweekly, semimonthly and monthly.
Supports customizable income, tax and deductions categories.
Exports Payroll checks to Quicken and accounting software like Microsoft Office accounting.
Can be used as QuickBooks payroll alternative with the ability to export payroll data to QuickBooks software.
Supports payroll vacation accrual and sick pay accrual.
Supports the following payroll forms: 941, 940, 944, W-2, W-3, California DE-9, California DE-9C, Texas C-3 , Texas C-4, New York NYS-45, Illinois 941 and Illinois UI-3/40.
Supports income per mile and per piece.
Prints IRS 1099 and 1096 forms.
Exports payroll reports to Excel, CSV and PDF.
Prints on Laser and Inkjet checks.
Prints on preprinted scannable W2 forms and W3 forms.
Generates comprehensive reports including payroll journal, tax liability and deposit requirement.
Generates Direct Deposit Files.
Prints MICR checks on blank check stock.
Give the payroll software from PayrollMate.com a test drive and see for yourself how easy managing payroll can be. Visit http://www.PayrollMate.com/ .