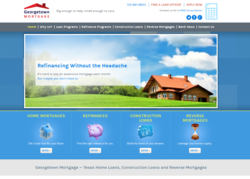 GEORGETOWN, TEXAS (PRWEB) November 08, 2012
Georgetown Mortgage Bank announces the addition of Texas VA Streamline Refinancing to its list of refinancing services.
The bank offers VA Streamline Refinancing to Texas homeowners with existing VA loans who have previously occupied the home. VA Streamline Loans, also known as VA Interest Rate Reduction Refinancing Loans (IRRRL), can either reduce your monthly interest rate or convert your loan from an adjustable-rate mortgage into a fixed-rate mortgage.
VA IRRRLs are considered "streamlined" loans because they do not require an appraisal or credit underwriting package, saving borrowers both time and money. Moreover, an IRRRL may be done with "no money out-of-pocket," meaning that closing costs can be rolled into the new loan through an increased interest rate or larger loan amount.
"VA Streamline Refinancing is a great way for veterans and their spouses to refinance quickly," said Kristi France, a Residential Mortgage Loan Originator with Georgetown Mortgage Bank. "Interest rates are at historic lows right now and there's really no better time for veterans to refinance their homes."
Georgetown Mortgage Bank has a firm commitment toward customer service and satisfaction. Unlike other banks which assign borrowers a number and pass them between loan officers, Georgetown Mortgage Bank pairs borrowers with loan originators who can walk them through the entire loan process.
To learn more about Georgetown Mortgage Bank's refinancing programs, click here.
About Georgetown Mortgage Bank
Georgetown Mortgage Bank is a full-service mortgage bank in Georgetown, Texas. The bank provides home mortgages, refinances, construction loans and reverse mortgages to people across the state of Texas. Georgetown Mortgage Bank aims to find the best mortgage solutions for its clients through the guidance of a personal loan consultant who works with the customer from beginning to end of the mortgage process. Although Georgetown Mortgage Bank offers big bank products and services, its consultants pride themselves on offering the friendly service of a local bank.
###