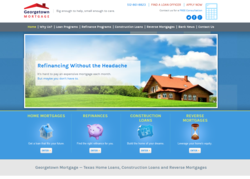 GEORGETOWN, TEXAS (PRWEB) September 25, 2012
Georgetown Mortgage, a bank providing home loans in Texas, has redesigned its website to help customers get information faster and easier.
The new website features a Texas mortgage calculator, enabling people to calculate their mortgage payments, payoff time, interest paid and how much interest a person could save by increasing their mortgage payment.
"We want people to choose us for their mortgage," said Kristi France, Sales Support Manager for Georgetown Mortgage. "But, more importantly, we want to educate people about how to choose the right mortgage for their unique needs. There are so many choices when it comes to home loans, and the mortgage with the lowest interest isn't always the best choice."
The site also hosts an informative blog to help guide people through the mortgage process. The blog will talk about the different types of mortgages, the steps in the mortgage process and other mortgage news and tips.
The new website describes every mortgage offered by Georgetown Mortgage — a total of 13 different types of mortgages. It also explains one of Georgetown Mortgage's more unusual loans: the one-time close construction loan.
The one-time close Texas home construction loans offered by the bank are designed to save homeowners money when they're building a new home by saving them the costs of second loan closing after construction is completed.
About Georgetown Mortgage
Georgetown Mortgage is a full-service mortgage bank in Georgetown, Texas. The bank provides home mortgages, refinances, construction loans and reverse mortgages to people across the state of Texas. Georgetown Mortgage aims to find the best mortgage solutions for its clients through the guidance of a personal loan consultant who works with the customer from beginning to end of the mortgage process. Although Georgetown Mortgage offers big bank products and services, its consultants pride themselves on offering the friendly service of a local bank.
###