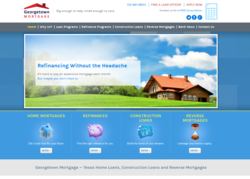 Georgetown, Texas (PRWEB) December 12, 2012
Georgetown Mortgage Bank announces the addition of Texas HomePath mortgages to its list of home loan offerings.
The mortgages, offered through the Fannie Mae HomePath program, are only available for homes owned by Fannie Mae. Borrowers can qualify for a HomePath mortgage with an initial down payment of only 3 percent and are not required to purchase mortgage insurance.
HomePath loans allow homebuyers to purchase homes more quickly and with less hassle because lenders are not required to perform appraisals on the homes owned by Fannie Mae.
"This loan program is a good option for homebuyers who have found a foreclosed home that they want to purchase," said Kristi France, a residential home loan originator with Georgetown Mortgage Bank. "HomePath loans are often quicker and easier to close, and borrowers can save a lot of money by being able to only put 3 percent down without purchasing mortgage insurance."
Unlike bigger banks, Georgetown Mortgage Bank works with its customers to find the best possible mortgage for their unique situations. Every borrower is assigned a personal loan originator who guides him or her through each step of the process, from application to closing, and is available to answer any questions that arise during the process.
To read more about the loan programs offered at Georgetown Mortgage Bank, click here.
About Georgetown Mortgage Bank
Georgetown Mortgage Bank is a full-service mortgage bank in Georgetown, Texas. The bank provides home mortgages, refinances, construction loans and reverse mortgages to people across the state of Texas. Georgetown Mortgage Bank aims to find the best mortgage solutions for its clients through the guidance of a personal loan consultant who works with the customer from beginning to end of the mortgage process. Although Georgetown Mortgage Bank offers big bank products and services, its consultants pride themselves on offering the friendly service of a local bank.
###