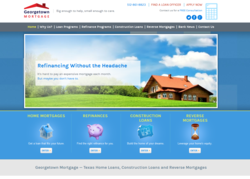 (PRWEB) November 01, 2012
Georgetown Mortgage Bank announces the addition of Texas reverse mortgages to its lineup of mortgage offerings.
The bank is offering reverse mortgages throughout the state of Texas to people aged 62 and older.
Under the loan program, senior citizens can obtain a loan for 55 to 75 percent of their appraised home value without having to repay the loan so long as they still live in their home. Reverse mortgages usually result in the home owner receiving between $50,000 and $400,000 in cash while still maintaining complete ownership of their home.
According to the bank, reverse mortgages can be used to pay for daily expenses, travel, education, debts and more.
"Reverse mortgages are an excellent option for many seniors who need cash but still want to live in their home," said Kristi France, a Georgetown Mortgage Bank loan originator. "We once did a reverse mortgage for a senior whose wife was diagnosed with cancer and needed the money to try a very experimental treatment on her to save her life. The reverse mortgage enabled them to cash out so they could pay for the treatment. They were very happy."
Reverse home loans allow homeowners to never have to repay the loan so long as they live in their home. When the last surviving spouse dies, the estate repays the loan, usually from the sale of the home.
To read more about Georgetown Mortgage Bank's loan programs, click here.
About Georgetown Mortgage Bank
Georgetown Mortgage Bank is a full-service mortgage bank in Georgetown, Texas. The bank provides home mortgages, refinances, construction loans and reverse mortgages to people across the state of Texas. Georgetown Mortgage Bank aims to find the best mortgage solutions for its clients through the guidance of a personal loan consultant who works with the customer from beginning to end of the mortgage process. Although Georgetown Mortgage Bank offers big bank products and services, its consultants pride themselves on offering the friendly service of a local bank.
###