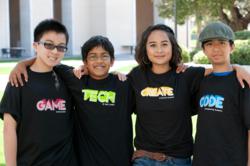 The program features hands-on tech learning in small classes.
Campbell, CA (PRWEB) May 24, 2012
iD Tech Camps, the leader in summer technology education, will host new Texas summer camps at Texas Christian University in Fort Worth this summer. The program for ages 7-17 joins another educational technology program, iD Gaming Academy, at the prestigious TCU campus.
The iD Tech Camps summer program for kids prepares students for future jobs by teaching the technology skills behind kids' existing interests. If a student loves playing video games, they can learn how to design their own video games including RPG games, FPS games, arcade games, and platform games. If a student loves smartphones and apps, they can learn how to create iPhone® games, as well as how to program in C++ and Java. Other course topics offered at TCU include film production and game modding.
As students go from passive technology consumers to active participants and creators, they also gain exposure to a college campus and start building portfolios. The program features hands-on learning in small classes, allowing for personalized attention from instructors.
Each week of camp culminates in a final project that showcases a student's new knowledge in a practical way and helps them see the real-world applications of technology. All courses are weeklong with day and overnight options. Module style curriculum allows students to take the same course over many weeks and build on their skills.
iD Tech Camps joins another technology education program held at TCU, teen summer camp iD Gaming Academy. iD Gaming Academy is an overnight, pre-college program for students interested in the gaming industry. Teens learn 3D modeling with industry-standard Autodesk® Maya®, level design with the popular Unreal® Development Kit, and programming for the Xbox 360®. The intensive two-week courses include talks from industry professionals, giving teens the chance to see if gaming is a good career choice for them.
Other nearby Texas summer camps include iD Programming Academy held at the University of Texas at Austin, as well as iD Tech Camps held at Southern Methodist University, St. Edward's University, Trinity University, and the University of Houston. Check course availability at internalDrive.com.
ABOUT iD TECH CAMPS AND iD TEEN ACADEMIES
iD Tech Camps and iD Teen Academies engage students in STEM education with computer camps held at 60 prestigious universities nationwide. Learn how to make iPhone® apps, how to create your own video game, how to model 3D animations with Autodesk® Maya®, how to build a website with Flash®, and more. Sessions are weeklong, day and overnight for students ages 7-18. Learn essential technology skills in small classes while attending sessions held at universities such as Stanford, UCLA, Princeton, and more. Teens preparing for college can build online portfolios and explore future career paths at iD Gaming Academy, iD Programming Academy, and iD Visual Arts Academy. Visit http://www.internalDrive.com or call 1-888-709-TECH (8324) for more information.