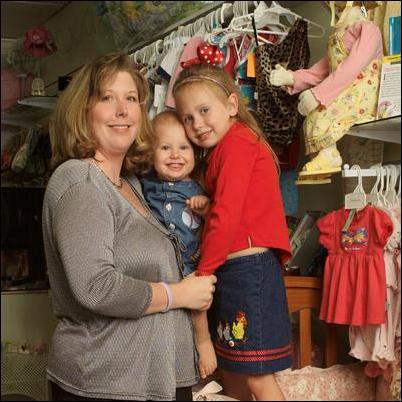 Unlike personal pumps, such as the Medela Pump-In-Style, rental pumps are specifically designed with special barriers and filters to prohibit milk from entering the pump motor, preventing cross-contamination
Kingwood, TX (PRWEB) July 31, 2006
Kingwood has a new children's consignment boutique for beautiful kids and smart mommies. Merry-Go-Round, located next to Kids In Action on Woodland Hills, offers quality designer, new and nearly new clothing for infants through pre-teens, cribs, bedding, baby gear, strollers and maternity products.
Opened last October, the store was recently acquired by Kingwood resident Suzanne Juel, who also owns My Little Juel (My Little Juel Website ), the only Medela breast pump rental station in the area, providing breastfeeding products and lactation support services.
"Combining the two businesses made sense," said Juel. "My Little Juel had grown to the point that we needed to expand to a retail location and Merry-Go-Round was the perfect compliment." Brands from the Web site are available in the store, along with a huge variety of nearly new consigned items.
"I am very picky," admits Juel, referring to the quality of the products she accepts for consignment at Merry-Go-Round. Clothing must be designer or boutique brands. Popular brands are GAP, Tommy, Ralph Lauren, Gymboree and high-end boutique lines such as Bailey Boys, House of Hatten, Cottontail Originals, Cach Cach, Strasburg and more.
Merry-Go-Round prices the items and consignors receive half of the selling price. Merry-Go-Round's Preferred Consignors Club allows its members special incentives, the favorite being consigning off-season clothes which are stored until the appropriate season.
Tax Free Weekend Sale
During Back-to-School Tax Free Weekend, Merry-Go-Round will bring its entire inventory out of storage and conduct a huge sale in the space next to the store. Merry-Go-Round's consignors have been gearing up for the sale, and Juel estimates she will have over $140,000 of inventory available for the sale. Clothing for all seasons will be available – tax free. The sale will run August 4-6 from 7 a.m. until 11 p.m. each day. There will also be numerous vendors on site to complete the shopping experience.
"Shop here before going to the mall," advises Juel. "You can get six to eight times more clothing for the same price on the same brands!"
Breastfeeding Support
Juel is as passionate about helping new mothers as she is about saving them money. She is a mom herself with two young Juels: Annah, 5 and Ian, 1. Her experiences with breastfeeding her daughter are what led her to start and name her business.
Through, My Little Juel, and now Merry-Go-Round, she has offered lactation support services in the lay community, logging more than 800 consulting hours in the last three years.
Merry-Go-Round carries Medela and Ameda personal breast pumps and products, including parts; provides hospital-grade breast pumps for rental; and even carries the full line of Medela maternity and nursing bras in sizes from 32B to 46G.
"Our rental pumps are the same pumps used at hospitals throughout Houston," said Juel. "Unlike personal pumps, such as the Medela Pump-In-Style, rental pumps are specifically designed with special barriers and filters to prohibit milk from entering the pump motor, preventing cross-contamination," she added.
Juel helps mothers resolve many breastfeeding problems, and insures that they get the right breast pump for their situation and use it properly. A Medela BabyWeigh scale, which is used during the support sessions, is also available for new mothers to help accurately chart their baby's weight gain.
Juel's enthusiasm for breastfeeding is obvious. Without hesitation, she talks openly about breastfeeding, giving a quick apology to those who may be embarrassed by the subject. "This is my passion, and seeing the results makes this the most rewarding work I've ever done."
Merry-Go-Round is located at 3039 Woodland Hills, Kingwood. Hours are Mon.-Fri. 10 a.m. to 6 p.m., Sat. 10 a.m. – 4 p.m. and Sun. 1-5 p.m. To make an appointment for a breastfeeding consultation, call the store at 281-359-7580. Merry-Go-Round Website.
###