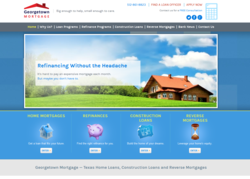 GEORGETOWN, TEXAS (PRWEB) November 15, 2012
Georgetown Mortgage Bank announces the addition of home loans insured by the U.S. Department of Agriculture to its home loan offerings.
The Texas USDA loans are available to individuals and families looking to settle in rural areas with an income of up to 115 percent of the median income for the area where they want to purchase a home. They must be without adequate housing but able to afford the mortgage payments.
These home loans offer 100 percent financing so borrowers are not required to pay any down payments. They also usually come with lower, fixed interest rates and can be available for applicants with less-than-perfect credit histories.
"There couldn't be a better time to take out USDA home loan," said Kristi France, a loan originator with Georgetown Mortgage Bank. "With 100 percent financing and historically low mortgage rates, a USDA-insured mortgage is a great choice for families looking to settle in rural areas."
Unlike larger banks, Georgetown Mortgage Bank offers personal loan originators to help borrowers decide which loan program will suit their needs best. To learn more about the Georgetown Mortgage Bank loan process, click here.
About Georgetown Mortgage Bank
Georgetown Mortgage Bank is a full-service mortgage bank in Georgetown, Texas. The bank provides home mortgages, refinances, construction loans and reverse mortgages to people across the state of Texas. Georgetown Mortgage Bank aims to find the best mortgage solutions for its clients through the guidance of a personal loan consultant who works with the customer from beginning to end of the mortgage process. Although Georgetown Mortgage Bank offers big bank products and services, its consultants pride themselves on offering the friendly service of a local bank.
###