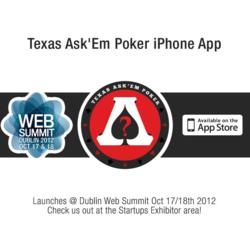 . We have already turned down one offer to acquire the game and have a number of companies looking for exclusive publishing rights for Texas Ask'Em Poker
(PRWEB UK) 16 October 2012
Previously launched for Facebook last May at the Berlin Social Games Summit, Texas Ask'em Poker will now be available on the move through the new iPhone app for FREE! The latest version of Texas Ask'Em Poker is being launched at the Dublin Web Summit taking place at the RDS this Wednesday and Thursday (17th and 18th October).
This novel fun poker game, ingeniously combines trivia with Texas Hold'Em Poker. Since its launch on Facebook, Texas Ask'Em Poker players have answered over 1 million questions, sent more than 750,000 invites to their friends and 44% of the ratings received for Texas Ask'Em Poker have been 5 Stars.
Neal O'Gorman CEO and co-founder of OteetO and the inventor of Texas Ask'Em Poker said of the launch of the iPhone app, "We have been delighted and impressed by the love our fans have for Texas Ask'Em Poker and indeed other gaming companies. We have already turned down one offer to acquire the game and have a number of companies looking for exclusive publishing rights for Texas Ask'Em Poker. We have also learned a lot on how we can improve the game further and bring our MVP [minimal viable product] to the next level and in doing so bring what is arguably a great game to the level where it is an excellent game. Releasing this iPhone version of the game is part of that next step along with many new features that will become available in the months ahead."
Texas Ask'Em Poker is just like the Texas Hold'Em Poker already loved by millions, but with a trivia twist. Players compete for the best starting hand by answering a multiple choice question. The cards in Texas Ask'Em are dealt face-down in pairs, but to the middle of the table, not yet to each player. All players are then shown a multiple choice question and have to answer it as quickly as possible. Players that answer correctly come first and are rewarded based on their answer times, players that answered incorrectly are randomly sorted last. The player ranked first is given the best hand dealt, all the way down to the player ranked last receiving the worst hand. Once all cards are dealt, regular Texas Hold'Em Poker follows. Only after the poker hand is complete, the answer to the question is revealed along with the players' answers which can lead to a few laughs. But remember when it comes to poker it is not just down to the hand you are dealt, even the person that had the answer wrong can still win the poker hand - you still need to know when to fold'em!
Targeted at the existing online poker players the iPhone Texas Ask'Em app is not for players that play for real money just the fantasy and adrenaline rush that you get from playing with in effect monopoly money in the online world. With over 40 million monthly facebook poker players and over 50% of facebook users accessing facebook via their smartphones, the Texas Ask'Em Poker iPhone app is appealing to the poker players that are looking for that extra challenge and additional entertainment value. While players can play for free and cannot win real money they can, if they wish to, spend money within the game through in-app purchases of virtual currency . The expectation is that only 3% of the players would actually purchase but this is the same business model behind the very successful Zynga Poker.
Poker players on facebook are predominantly male (75% male and 25% female) but OteetO feels that Texas Ask'Em Poker can appeal to a wider audience changing the demographics to 70% male and 30% female. Currently only available in English this will be expanded into other languages in the coming months.
For anyone attending the Web Summit, they can take part in the Dublin Web summit Texas Ask'Em Poker Challenge at the Start-up Exhibitors Stage, where they can compete to win an exclusive Texas Ask'Em Poker Energy drink or poker chip.
Texas Ask'Em Poker is available on Facebook and iPhone but for those of that are not part of (recently announced) 1 billion people on Facebook they can also enjoy Texas Ask'Em Poker at http://www.GoPlay.com.