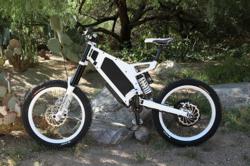 The Bomber Stealth Electric Bike displays phenomenal acceleration and hill climbing ability that is perfect for the spacious Texas terrain
Austin, TX (PRWEB) June 27, 2013
Stealth Electric Bikes USA continues to grow in popularity in Texas with the addition of seven new authorized Stealth Electric Bike dealers. Advanced customizations of The Bomber, the Fighter and the Hurricane Stealth Electric Bikes are available throughout Texas at online and local retail locations.
"If everything is bigger in Texas, then that certainly explains the love of our largest and fastest Stealth Electric Bike." Said Darin Brin, Director of Stealth Electric Bikes USA. "The Bomber is quiet and yet allows riders to exceed 20 MPH in USA mode, and faster speeds in competition mode. Ultimately, the Bomber Stealth Electric Bike displays phenomenal acceleration and hill climbing ability that is perfect for the spacious Texas terrain." Said Brin.
The Bomber Stealth Electric Bikes can reach distances extending 40 to 50 Miles on a single two-hour charge. Distance is extended with the Regen Button which converts braking energy into electrical energy that is passed back into the battery pack.
The Fighter and The Hurricane are also popular models of Stealth Electric Bikes. The Fighter has a top speed exceeding 30 MPH, with distances of over 35 miles on a single charge. All 2013 models now include the rear DNM suspension upgrade. This includes the coil for extra stability and absorption.
Leading Texas Stealth Electric Bike Dealers include:

Division 1 Bikes
Scooter Catalog
Houston Scooters
Rare Motorsports
Canyon Scooters
Valley Scooters of Texas
and Electric Rider
For a complete listing of the authorized dealers within the state of Texas and other retailers in the United States and across the world, please see Stealth Electric Bikes USA at: http://StealthElectricBikesUSA.com.
About Stealth Electric Bikes USA.
Stealth Electric Bikes redefine the ride experience. They are considered by peers to be the toughest and most powerful hybrid electric bikes available anywhere in the world. Electric Bike Dealers are encouraged to inquire about opportunities to become a dealer. For more information about distributing in your area, please contact Stealth Electric Bikes USA at 480-993-0327.