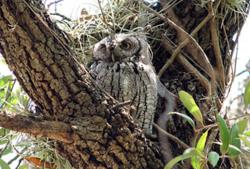 "Excellent birding, beautiful scenery and the wonder of bats! What fun! Can hardly wait to go again!" - Rolla Wagner
San Antonio, Texas (PRWEB) December 29, 2012
Top birding and nature tour companies provide participants with the opportunity to improve their skills and Naturalist Journeys rates their upcoming Texas Hill Country nature and birding tour as one of the best tours on which to do so. Owner Peg Abbott says, "Texas is in the center of the country, an Interstate Highway for birds, blending species in passage from east to west. In April, there is no better place to be to witness the spectacle of migration." In the center of this "center" lies the Texas Hill Country, its limestone plateaus home to varied habitats that provide refuge for migratory birds. Naturalist Journeys' guide Bob Behrstock has led April Texas birding and nature tours for over two decades. April most often finds him ensconced in Concan at Neal's Lodges, alongside the clear-flowing waters of the Rio Frio.
Find full details of Naturalist Journeys Texas Hill Country Birding tour at http://www.naturalistjourneys.com/jcalendar/jc_hillcountry13.htm
Birders flock to the Texas Hill Country each April in search of a few species hard to find anywhere else. Top ticket on a birders "wanted list" is the Golden-cheeked Warbler, a black and gold feathered gem weighing little enough to send for one extra ounce of postage. Golden-cheeked Warblers winter in Mexico and northern Central America, but return to Ashe Juniper-oak woodlands of the Edwards Plateau of the Texas Hill Country each year to breed. Birders watch them tip their heads back in song, uttering a pattern of notes recognizable as their song alone. Another sought-after species is the Black-capped Vireo. Naturalist Journeys birding tour groups find the Kerr Wildlife Management Area, centered around the North Fork of the Guadalupe River, a fine place to see them. Managed by the state of Texas, birding and nature tours visiting have an excellent chance to see the species with over 400 males present on the territory most years. Numerous other species occur; in the last years Naturalist Journeys' Texas Hill Country nature and birding tours have tallied over 120 species in a week of birding.
Varied habitats that support birds such as Olive Sparrows, Long-billed Thrashers and Green Kingfishers can all be found within a few hours of Neal's Lodges, a comfortable Texas-style family resort where chicken-fried steak and homemade pot roast are comfort foods enjoyed at the end of a field day. Night birds such as owls can be found right on the grounds. For over twenty years, Neal's Lodges have catered to birders and the tradition continues today. Abbott says, "Who can't go all day in the field after a power breakfast of Neal's biscuits and gravy?" She feels that the hospitality of returning to homey lodgings for all five nights of the tour contributes to the fun for Texas Hill Country nature and birding groups.
Visiting a bat cave to see the emergence of approximately 10 million Mexican Free-tailed bats in the setting sun is an added bonus for tour participants.
This tour is limited to 8 participants.
About Naturalist Journeys, a Top Small Group Adventure Tour Company
Naturalist Journeys specializes in small group birding tours and natural history tours of key sites across North and South America and around the world. The company's expert guides lead participants on intimate small group tour journeys for bird-watching, wildlife-watching and other forms of eco-tourism. Naturalist Journeys is a small adventure travel company that puts people, places and remarkable experiences together. Their style of environmental tourism focuses on nature — specifically birdwatching, natural history, geology and geography.