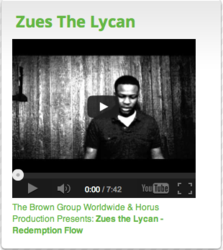 Boston, MA (PRWEB) April 30, 2013
The Brown Group Worldwide LLC in coordination with Horus Productions expanded operations to Texas with its first project featuring recently added artist Zues The Lycan. "The expansion was planned in January after the announcement of Zues the Lycan to the company's roster, we saw the need to provide a support system readily available to support his [Zues the Lycan] career and future artist that will join our family," said Managing Partner Darius Brown.
The Brown Group Worldwide partnered with Horus Productions, a newly created media production company, to jointly establish TBG Texas which will provide services in the field of media production, design, public relations, and marketing for the State of Texas. The joint partnership also announced the addition of Vision, a lyricist also from Texas who provides a non-traditional presence to hip-hop. Both artist plan to release music including joint collaborations in the Summer Music Campaign presented by The Brown Group Worldwide LLC, Horus Productions, and many other affiliates. The project is set to release in June 2013.
Horus productions is a company that specializes in the production of video media to include; music videos, web series, video shorts, advertising, and recorded interviews . Horus Productions seeks to appease the fans of special effects with their custom created designs. Owner and Founder Horace Cargill Jr. stated that the company plans to utilize more than a southern influence to their creations, and will provide versatility to the demographics in Texas.
The Brown Group Worldwide LLC, is a public relations and marketing management company that specializes in the exposure of people's public image and relations with the public demographic. The Brown Group Worldwide provides marketing strategies and consultation in the areas of brand marketing, and business efficiency for the accomplishments of business goals. The Brown Group Worldwide also offers managerial services for artists in various fields which focuses on their public relations and team management. Our photography and publishing divisions offer various range of photography services and advertisement spaces in future print media releases. Visit us online at http://www.thebrown-group.com and http://www.facebook.com/tbgthebrowngroup