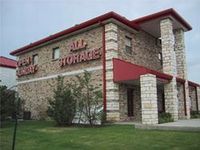 giving our customers what they really want with their valuables: peace of mind.
Fort Worth, Texas (PRWEB) July 16, 2009
Texas and Oklahoma's premium self storage provider, All Storage, has recently launched its self storage website, AllStorageOnline.com, to fill the need for information, allow people to reserve a storage space and create higher visibility for its storage facilities.
All Storage boasts 34 full-service, new generation, best-in-class, self storage facilities throughout Texas and Oklahoma with its largest concentration in the Dallas, Fort Worth and Amarillo, TX areas.
AllStorageOnline.com has been configured with a search function that finds the closest location by city, state and/or zip code and also sorts the sites by region and distance. Furthermore the website gives the option for information on the particular all storage facilities, pictures, maps, helpful storage information, and contact information. Users also have the capability to reserve a space online, making the storage process that much easier.
The All Storage website was built and optimized by Los Angeles based ATAK Interactive. A one-stop shop with an international presence, ATAK Interactive saw to it that the marketing and web development was customized to All Storage's needs. "All Storage is very happy with the new website, AllStorageOnline.com. ATAK Interactive listened to our feedback and did an outstanding job. We are more than happy with ATAK Interactive's work and they went above and beyond with their customer service and helpfulness. We now have a website that makes it easier for our customers to find good information and receive good service fast," says Jay Schuminsky, All Storage Marketing Director.
All Storage strives to set benchmarks for the self storage industry in areas of security, customer service, cleanliness, overall design, and a quality product - "giving our customers what they really want with their valuables: peace of mind." All Storage facilities are equipped with unsurpassed security including over 100 cameras so that your belongings are being watched 24/7. All Storage's public storage units are built with extra high ceilings, meaning more storage space for the SAME PRICE! All Storage aims at customer care and protecting your valuables. This includes cleanliness and customer service.
All Storage is committed year after year to be bigger, better, and bolder, as we will continue to reinvent the self storage industry. Our secure self storage facilities are simply the best facilities around for boat storage, RV storage, automobile storage, residential and furniture storage. Innovative public storage features include new drive thru facilities, extra wide drives for the easiest access, drive-up climate control, and now our helpful new website. Our vision is to give you more options to store your belongings, more resources to help make the process as quick and easy as possible, and the peace of mind knowing that your car, boat, furniture, or whatever you desire to store is safe with us.
For more information about All Storage or AllStorageOnline.com Please visit AllStorageOnline.com or call 1-972-418-6400.
# # #