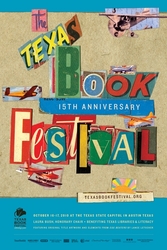 "I am especially pleased to participate as an author in this year's Texas Book Festival," said Mrs. Laura W. Bush. "I am proud of the success of the festival and glad to be part of the 15th anniversary celebration."
Austin, TX (PRWEB) September 14, 2010
The schedule for the Texas Book Festival is available online . Celebrating 15 years, the Book Festival takes place on October 16 and 17 in and around the Texas State Capitol and nearby venues. Finding authors, locations and times will be a snap with the first ever Texas Book Festival IPhone App sponsored by Kirkus Reviews. The free IPhone App is due out early October.
Austin native Lance Letscher is the Festival's 2010 featured poster artist and author. The poster includes original collage and images from his new children's book The Perfect Machine.
Headlining non-fiction authors will be in the C-SPAN/Book TV Tent on Congress between 9th and 10th streets. Kicking off the Festival on Saturday morning is former First Lady, TBF founder and author Laura W. Bush who is scheduled for 10 a.m. CST in the Paramount Theatre.
The Book Festival is free and fun for all ages. 2010 Festival topics include civil rights, Tejano leadership in Texas, the drug wars, capital punishment, green energy, President Obama, American business titans, famous fugitives, civilizing the West and the life of Jack London.
The Cooking Tent sponsored by Central Market will overflow with cooking demonstrations and discussions. Music fans can linger over 35 years of Austin City Limits photographs or visit the Music Tent and listen to acts including Terry Allen, 'Til We're Blue or Destroy, Bobby Whitlock & La Guerrilla, and Shinyribs. Geared especially for young adults are sessions titled Is the World Ready for My Book? and Coming of Age in a Difficult Age, among many others, including a special Saturday night Zombies vs. Unicorns showdown.
The youngest readers will enjoy the Children's Chapter, sponsored by HEB, which includes the Children's Reading tent, the Children's Entertainment tent, and the Children's Activity tent. Special guests and panels include: Funny Business: Good Reads for Guys, True Grit: Kids with Chutzpah and a panel on Portals to Imagined Worlds, musicians Sara Hickman and Joe McDermott and visits by the Fairy Godmother Academy, Olivia, Curious George, Clifford and the Cat in the Hat.
Sponsors include: Austin American-Statesman, AT&T, Barnes & Noble, Brigid Cockrum & Family, Central Market, HEB, Kirkus Reviews, KLBJ-AM/KGSR-FM, KLRU, KUT 90.5, Texas Monthly, Pearson Education, Sibley Peteet Design, and others.
Interested in volunteering or attending the gala on October 15? Or to see the complete list of authors, schedule and more visit texasbookfestival.org.
NOTE TO MEDIA: Media credential forms, due October 1, are in the virtual press room.
###