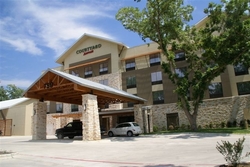 New Braunfels, TX (PRWEB) April 22, 2010
Family fun at Six Flags Fiesta Texas and relaxing New Braunfels lodging can make for a fabulous vacation that provides something for everyone. With New Braunfels, Texas as a vacation destination, families will find exceptional value with a Six Flags Fiesta Texas promotional package offered by the Courtyard New Braunfels River Village.
This affordable family package offers special rates for hotel lodging in New Braunfels that includes four tickets to the Six Flags theme park when booking two nights at the Courtyard New Braunfels River Village hotel. Rates for this promotion start at just $202 per weekend night and require a two night stay. Rates for weekday night visits start at just $192 per night and both include a spacious balcony view room with two queen beds. Six Flags Fiesta Texas has more than 50 rides including serious thrill rides, family rides and kids' rides. From the thrilling new Tony Hawk's Big Spin and Superman: Krypton Coaster to a smaller scale selection in White Water Bay for the youngest group, there's a ride that is sure to suit every kid in the family. A day at the park wouldn't be complete without popular theme park food and shopping - all of which are in abundance at Six Flags, where guests can find the usual and then, the sometimes more unusual. From caricatures to ice cream, BBQ to corn dogs, and Texas gifts to shakes and fries, the variety is extensive and the tastes exquisite.
Fun-filled family adventure combined with the relaxing atmosphere of New Braunfels accommodations at the Courtyard River Village hotel make this promotion a perfect fit for a hearty Texas vacation. New Braunfels is a great destination for thrilling, full-fledged family fun, whether planning a family vacation or a weekend getaway and the exquisite service and beautiful, well-kept property of the River Village allows families the opportunity to enjoy the serenity and excitement of New Braunfels and its German heritage. Settled deep in the heart of Texas Hill Country along the Guadalupe and Comal Rivers, New Braunfels offers a distinct old world heritage along with small town Texas charm. Conveniently located just off IH-35, the Courtyard New Braunfels River Village hotel offers guests breathtaking views overlooking the beautiful Guadalupe River and 100-year-old pecan groves.
About the Courtyard New Braunfels River Village
The Courtyard New Braunfels River Village features spacious guest rooms with the Marriott's luxury bedding ensembles, complimentary wired and wireless high speed Internet access and a flat screen television. Cable/satellite service provides premium channels. The hotel also offers a resort-style outdoor swimming pool, whirlpool and on-site exercise room for the convenience of guests. The Bistro Café is open for breakfast and dinner offering a variety of sandwiches.
###