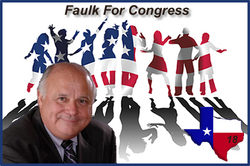 Now let's get ready for the main event.
Houston, TX (PRWEB) March 5, 2008
The Faulk for Congress Committee is pleased to announce that John Faulk has won the Republican nomination for the Texas 18th U.S. Congressional District, assuring that voters will have a clear choice for change in the November 2008 General Election. In an election that he believes "will change the fabric of America," Faulk is now looking forward to going head-to-head with Sheila Jackson Lee.
Although Sheila Jackson Lee has a well organized machine to transport voters to the polls, Faulk has "confidence that the voters of the Texas 18th Congressional District are ready for change". He is looking forward to eight months of campaigning before the general election in November but is aware that he will have to drive a tough campaign against an entrenched career politician.
In the course of his primary campaign Faulk has enjoyed meeting many people and engaging them at homes, civic groups, chambers of commerce, churches, political groups, shopping centers, energy companies, small businesses, not-for-profit and charity galas within the District. As a result of these meetings John believes the voters in the Texas 18th Congressional District feel that they have been abandoned and that their Congressional Representative is representing herself instead of them.
Faulk's campaign slogan is "Reaching Out Together". In order to win, Faulk knows he must reach out to new residents, independents, Asians, Hispanics, Blacks, Caucasians and disenfranchised Democrats, as well as Republicans. He wants to make sure all eligible voters are registered and are well informed on the issues. Believing "an informed electorate will make the best decisions," Faulk has embraced the internet as a source for a constant flow of new ideas and information. His website, http://www.faulkforcongress.org, has become one of the more informative political sites on the internet.
Faulk's campaign has been a true grass roots effort. He wants to thank all of the volunteers who made this victory possible. The Reagan High School former students have been invaluable. There have been numerous precinct chairs and private citizens who have chosen to become involved in his campaign. To each of these volunteers he offers grateful thanks.
John also wishes to convey his gratitude to everyone who voted for him, noting that many had already committed their November votes in his favor.
Upon hearing the news of his Primary Election Nomination, John Faulk exclaimed, "Now let's get ready for the main event."
###