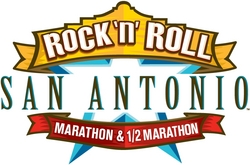 San Antonio, TX (Vocus) July 15, 2008
The inaugural Rock 'n' Roll San Antonio Marathon & 1/2 Marathon announced today the inception of the "Texas Showdown," a statewide competition in which eligible runners will compete for prize money on the 13.1 and 26.2-mile race courses Sunday, November 16, 2008.
Race organizers are seeking Texas athletes who have run marathon times under 2:47 (male) and 3:15 (female) in the marathon distance to submit a resume to compete in the "Texas Showdown." All submissions must be received no later than September 1st to mturnbull@competitorgroup.com.
"This competition is just another example of the spirit of the Rock 'n' Roll Marathon, and how our community will be reflected in the eyes of visitors," said Susan Blackwood, Executive Director of the San Antonio Sports Foundation. "We're proud to be partnering with Elite Racing on what we know will be a great opportunity to increase tourism and showcase our unique local flavor."
In addition to the "Texas Showdown," any male Texas athlete who completes the marathon course under 2:31 and any Texas female under 2:56 will receive a bonus of $350, should they not win any prize money. In the ½ marathon, any Texas male who finishes under 1:08:30, and any Texas female under 1:17, will also receive a $350 bonus should they not qualify for prize money.
"Rock 'n' Roll San Antonio offers athletes from all over Texas the opportunity to compete with, not only the worlds best, but also a group fellow Texans at the same ability level," said Matt Turnbull, Athlete Coordinator for Elite Racing. "With a separate prize purse for Texas athletes, as well as hotel accommodations, we've created a prize package we hope will encourage some really competitive racing."
To qualify for the Texas Showdown prize purse, runners must have been a permanent resident in the state of Texas as of November 1, 2007. Any athlete who intends to race in the marathon and has bettered times of 2:43 (male) 3:07 (female) in the last 12 months will be offered a complimentary race entry. For the ½ marathon, runners must have bettered 1:13:30 (male) 1:24 (female) in the last 12 months to qualify for a complimentary entry.
For complete prize money breakdown, click on the attached file.
The Rock 'n' Roll San Antonio will be the seventh race in Elite Racing's national series of musically themed marathons and half-marathons. The 26.2 and 13.1-mile courses will run past many of the city's attractions and feature live bands and cheerleaders positioned at each mile. Race weekend will begin with a two-day Health & Fitness Expo where all participants must go to pick up their race number. The expo will also feature more than one hundred running and fitness retailers, exhibits and clinics.
"We are looking forward to hosting the best runners from the State of Texas," said Lucy Diaz, Event Manager for the event. "This is going to be a world-class race and is sure to attract many athletes and visitors to San Antonio."
Local bands and high school cheer squads interested in performing along the course may go to http://www.RnRsa.com for information about submitting press kits and bios. For more information about the Texas Showdown contact Matt Turnbull at mturnbull@competitorgroup.com or call 858-768-6463, for general race registration or inquiries visit http://www.RnRsa.com or call 800-311-1255.
Texas runners and walkers who register for the Rock 'n' Roll San Antonio Marathon or ½ Marathon before July 31st will be eligible to win a VIP package for race weekend.
About Elite Racing Inc.
Based in San Diego, Calif., Elite Racing is a division of The Competitor Group, the leader in endurance sports media, marketing and event management. Its signature Rock 'n' Roll Marathon Series began in 1998 with the Rock 'n' Roll Marathon in San Diego. Over the past 10 years, the sports marketing and management company has grown to manage a total of seven marathons and half marathons including the P.F. Chang's Rock 'n' Roll Arizona Marathon & ½ Marathon in Phoenix, Scottsdale and Tempe, the Country Music Marathon and ½ Marathon in Nashville, Tenn., the Rock 'n' Roll Marathon & ½ Marathon in San Antonio, Tex., the Rock 'n' Roll Half Marathons in Virginia Beach, Va. and San Jose, Calif., and the ING Philadelphia Distance Run. Events feature live bands on entertainment stages and cheerleaders at every mile along the course and attract between 13,000 and 37,000 registered participants. For more information about Elite Racing's events visit http://www.eliteracing.com
Contact:
Dan Cruz, 858-768-6425
dcruz@competitorgroup.com
Terry McDevitt, 210-822-0066
tmcdevitt@mcdevittmedia.com
###