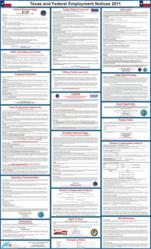 Texas State and Federal Labor Law Posting Required!
Los Angeles, California (PRWEB) October 02, 2011
State and Federal Poster Inc. has Texas Labor Law Posters. Posting for Texas Labor Law Poster requires employers to post state, federal and OSHA enforced posting requirements where most noticeable to employees informing the employees' of their labor law rights. Texas Labor Law posters combines State, Federal, and OSHA posting requirements on one convenient laminated poster on both sides and in color. The Complete Texas Labor Law Posters also include the newly added USERRA labor law poster as part of the Federal labor law posters and the NLRA posting requirements. These posters are ready for posting when they are purchased.
Posting Texas Labor Law posters will keep compliance until the labor law posters change to reflect any new or revised labor laws. Texas Labor Law posters change at least twice a year. Maintaining Texas Labor Law posters or trying to find out if the Texas Labor Law posters have adjusted can be costly. Save time and money by selecting the Compliance Protection Plan for the Texas Labor Law Posters. This will assure that when there are any changes to the Texas labor law posters, it will automatically replace Texas labor law posters at no additional cost. Also, it does not even charge shipping for the replacement Texas Labor Law posters. After purchasing the plan, it will guarantee that the Texas Labor Law posters will always be accurate, up-to-date, and will stay in compliance without obtaining any additional costs.
###