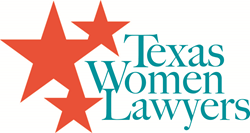 Judge Rhoades has been lauded as someone with great judicial demeanor and who can inspire others with her own experience and accomplishments. Her success and commitment to both the law and her family shows others that with hard work you can be anything
Austin, TX (PRWEB) February 23, 2015
Texas Women Lawyers is honored to present the 2015 Texas Women Lawyers' Pathfinder Award to the Honorable Brenda T. Rhoades, Chief Judge of the United States Bankruptcy Court of the Eastern District of Texas.
Each year, TWL recognizes a Pathfinder -- an individual who has been a champion promoting the advancement of women in the law and who exemplifies professionalism, leadership, and commitment to the public interest. Judge Rhoades epitomizes a Pathfinder.
"Judge Rhoades has been lauded as someone with great judicial demeanor and who can inspire others with her own experience and accomplishments. Her success and commitment to both the law and her family shows others that with hard work you can be anything," said Misty Blair, President-Elect of TWL.
Judge Rhoades is a native of Seoul, Korea who emigrated to the United States with her family. Judge Rhoades received her B.S. from Texas A&M University, and she received her J.D., magna cum laude, from Arizona State University College of Law, where she was named a recipient of the Sandra Day O'Connor Constitutional Law Award. Prior to serving on the bench, she was a partner with Baker Botts LLP. She is active in the legal community, participating in the planning of numerous CLE events across the state; former Board member of the State Bar of Texas, Asian Pacific Interest Section; former Director of the Dallas Bar Association; past President of the Dallas Asian American Bar Association; and former Vice President of Membership of the National Asian Pacific American Bar Association. She is also a past recipient of the Justice David Wellington Chew Award from the Asian Pacific Interest Section. She is involved in the Korean community, helping with Korean parent and child groups, and she proudly states that her greatest success will be in raising her two children to be happy and have a strong work ethic.
The presentation of the 2015 Texas Women Lawyers Pathfinder Award will be at TWL's Annual CLE at the Old Red Courthouse in Dallas on February 27, 2015. All Texas lawyers are invited to register for the CLE. More information can be found at the TWL website and the TWL Facebook page.
Texas Women Lawyers is an organization committed to the empowerment of women lawyers to achieve full rights, privileges, and responsibilities in the legal profession.