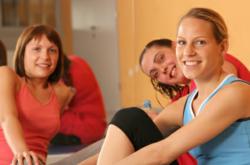 Since the sessions are conducted right in our physical therapy clinic, our physical therapists are able to make sure that all participants are performing the movements safely and effectively
Austin, TX (PRWEB) July 21, 2011
Texas Physical Therapy Specialists (TexPTS) is excited to announce the one-year anniversary of the GRAVITY fitness program at the Balcones Woods and Central clinics in Austin, Texas. GRAVITY is small group personal training that provides individual attention at an affordable price. The program is designed to avoid injury and help chronic problems, such as arthritis.
"My passion for fitness and exercise began at a young age and continued through high school when I played varsity soccer," explains Leeda Rasoulian TexPTS Certified Athletic Trainer (ATC) and GRAVITY trainer. "I enjoy motivating and helping others succeed and believe that a workout should not only be beneficial and worthwhile, but fun and enjoyable as well."
All of the GRAVITY instructors are physical therapy technicians who have received extra training to become certified GRAVITY instructors. Small group personal training allows participants to receive one-on-one time with a certified GRAVITY trainer, while avoiding the high costs of private sessions. Each GRAVITY session lasts 45 minutes, so it can fit into a busy schedule. The workouts build strength, burn fat, and improve flexibility and are modifiable for people of all fitness levels and ages. Patients with chronic problems, such as low back pain, arthritis, and tendonitis, are able to participate in GRAVITY as well.
"The great thing about GRAVITY, is that we can tailor it to the participants," states Dr. David Browder, PT, DPT, OCS, clinic director and therapist at TexPTS' Balcones Woods location in Austin, Texas. "We are able to work with patients who have finished their physical therapy program, but are not quite ready to head to the gym on their own. At the same time, we can also work with weekend warriors and high school athletes who are looking to effectively increase their stamina and strength."
"Since the sessions are conducted right in our physical therapy clinic, our physical therapists are able to make sure that all participants are performing the movements safely and effectively," continues Browder. "Patients no longer need to worry about re-injuring themselves as they work towards improved fitness. We can help them avoid the common pitfalls while we help them improve strength and agility."
GRAVITY combines strength training, personal training, and post-rehabilitation conditioning utilizing GTS, a device that engages all muscle groups and encourages functional exercise by using an individual's body weight as resistance against gravity. Functional exercise is a technique that recreates movements performed in the course of everyday life, thus improving performance. GTS facilitates more than 250 strength training, stretching, and Pilates exercises.
For more information on TexPTS' fitness and wellness programs, please visit TexPTS.com.
About Texas Physical Therapy Specialists:
Texas Physical Therapy Specialists (TexPTS) is a private physical therapy practice with locations throughout San Antonio, Austin, and Tyler. Known for teaching and training physical therapists all over the US, TexPTS physical therapists pride themselves in being spine experts. They deliver hands-on physical therapy based on the newest research to achieve the best results for patients with bad backs, achy joints, wounded hands, and work injuries. Along the way, the TexPTS family has fun and makes friends with their patients (and their pets, their kids, their in-laws, and neighbors….) Perhaps this is why they were voted the Best Private Physical Therapy Practice in the U.S. in 2009 by their peers in the American Physical Therapy Association. For more information visit our website at TexPTS.com or find us on Facebook.
###