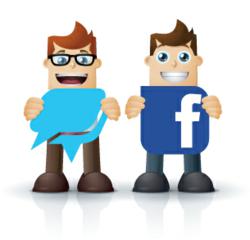 This awesome new feature allows our customers to essentially kill two birds with one stone which really adds the value we're always looking to create
Jamestown, NY (PRWEB) December 31, 2012
SlickText.com, an industry leader in the text message marketing industry, has just released a new feature for their text marketing software that integrates right into Facebook. This new functionality gives users the ability to reach not only their text message subscribers but their Facebook fans as well. This new feature makes the lives of business owners and marketers much easier as they have the ability to cross post their text promotions directly to their Facebook timelines or company fan pages. In the past, two separate marketing messages would have to be created and posted on two separate websites absorbing more of a person's time.
Co-Founder and CEO Matt Baglia said "We've had several of our customers asking for this type of functionality over the past couple months so we knew we had to make it a reality". He continues by saying, "We spent countless hours studying how our customers work with our text marketing system so that we could develop the easiest and most streamlined way to integrate with Facebook."
Hundreds of companies have already begun using the new Facebook functionality and it's been working exactly how the designers at Slick Text have intended it. Bobby Angilella, the company's VP of Business Development stated, "This awesome new feature allows our customers to essentially kill two birds with one stone which really adds the value we're always looking to create".
SlickText.com is known for their ease-of-use and excellent customer service within the text marketing industry as they are helping small to large size companies all over the United States drive sales and revenue via opt-in text messages.