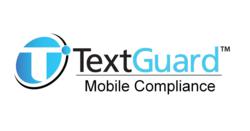 We are pleased to now offer our customers a solution that allows them 100% data control within their environment," stated TextGuard founder and CEO, Todd Michael Cohan
New York, NY (PRWEB) December 07, 2011
TextGuard, the leading provider of mobile communication compliance solutions, is pleased to announce the release of its Commercial Off-The-Shelf (COTS), "On-Premises" solution to the TextGuard mobile compliance platform. Similar to the company's hosted solution, the "on-prem" model enables enterprises to log, archive, review, extract, and supervise all messaging communication on company mobile devices. These messages include SMS (text) messages for Android and Blackberry® mobile devices, as well as BBM, IM and PIN messages for Blackberry. All mobile messages, including telephone call logs as well as voice conversations are identified, collected, and archived. This allows companies to establish meaningful internal compliance policies regarding mobile devices and to meet compliance mandates from all relevant regulatory bodies.
TextGuard's new COTS or "On-Premises" version installs on a server inside a company's secure data center giving the customer the ability to monitor all data directly without routing information through a third party solution. All messages are securely sent from the mobile devices keeping the organizations data 100% protected.
"We are pleased to now offer our customers a solution that allows them 100% data control within their environment," stated TextGuard founder and CEO, Todd Michael Cohan. "The TextGuard flagship solution has been delivered to the customer as a hosted solution for over three years and is 100% secure, however, many large financial institutions have strict guidelines regarding their data and require it to remain within their environment. The TextGuard "On-Premises" Enterprise edition can be installed, configured and operational with minimal setup costs. It was designed to meet the needs of both large financial services firms, as well as smaller institutions that need to install a mobile compliance solution.
Mobile messaging content, like other forms of electronic communication, is subject to electronic discovery rules, which require organizations to manage and produce electronically stored information (ESI) in a timely and complete manner during litigation. Companies in highly regulated industries, such as financial services or government, are obligated to preserve communications and to produce these messages when necessary. In addition, SEC and FINRA regulations require financial services firms to regularly review their representatives' electronic messages, document these visual inspections and note any actions that result. Depending on the industry, failure to comply with these regulations can result in fines, loss of license and other administrative sanction. Other non-regulated companies have also begun to develop internal policies aimed at monitoring employee dissemination of sensitive company information through mobile devices.
About TextGuard
TextGuardTM is the leading provider of mobile communication SMS monitoring and SMS archiving solutions and ensures compliance with the rules and regulations of all relevant regulatory bodies. TextGuard Mobile Compliance Solutions provide monitoring, capturing, logging, archiving, supervision and alerting of all communication on company mobile devices. TextGuard's mobile communication compliance solutions are provided as either a hosted (SaaS) platform or in the customer's environment.
To learn more, please visit http://www.textguard.com.
###