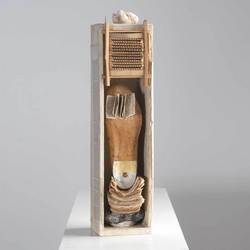 Whether she sets cut-up bits of handwriting spinning around a reproduction of a Michelangelo sibyl or turns strips of antique German books into suspended grids, she touches on the roots of the collage medium in language and personal history with a reticent originality.
Wilton, CT (Vocus) January 29, 2010
From February 3 to the 8, browngrotta arts will join more than 80 international galleries exhibiting at the American International Fine Art Fair (AIFAF) in West Palm Beach, Florida.
AIFAF is recognized as the "crown jewel" of American art fairs and is the only American art and antiques fair rated 5 stars by The Art Newspaper. AIFAF is a fully vetted fair, featuring prestigious international dealers presenting a mix of paintings, sculpture, jewelry, antiques, contemporary design and decorative arts.
In its installation at AIFAF, browngrotta arts will feature the work of Magdalena Abakanowicz and Lenore Tawney, artists whose work redefined weaving and sculpture in the 20th Century. Each received a Visionaries! Award from the Museum of Arts and Design in 2000. In 1999, Tawney was selected a Master of the Medium by the Renwick Alliance of the Renwick Museum, of the Smithsonian Institution. Abakanowicz received a Lifetime Achievement Award for Contemporary Sculpture from the International Sculpture Center in 2005. The work of both artists is found in major museums worldwide including the Metropolitan Museum of Art and the Museum of Modern Art, in New York, the Art Institute of Chicago, the Stedlijk Museum, Amsterdam, the Netherlands, the National Museum of Modern Art, Kyoto, Japan and the Israel Museum, Jerusalem.
Abakanowicz is the best-known Polish artist in the world. She initially gained acclaim for her "Abakans," monumental woven works of sisal, ropes and other fibers that hung free in space. Next were headless human forms of burlap and later bronze. Large groupings of her sculptures are installed around the world, from Chicago's Millennium Park to Olympic Park in Seoul to the Israel Museum in Jerusalem. In presenting her Visionaries! award, the Museum of Arts and Design cited her for "her powerful explorations, dealing with the impact of social and political reality on individual identity, that have demonstrated the potential of fiber as an effective and expressive sculptural material."
At AIFAF, browngrotta arts will exhibit three weavings by Abakanowicz, one from the 1960s and two, from the Anne and Jacques Baruch Collection, Ltd., created in the 1980s. Beginning in the 1960s, the Baruchs brought works from Eastern Europe, including photography from Czechoslovakia and Abakanowicz's weavings from Poland, exhibiting them in their gallery in Chicago.
At AIFAF, browngrotta arts will also show weavings, drawings, collages and mixed media assemblages by Lenore Tawney, who died in 2007 at the age of 100. "Luminous is an apt word to describe the entire career of the American artist Lenore Tawney," wrote Holland Cotter in the New York Times in 2004. In the 1950's, he noted, "she created a series of monumental open-weave sculptures that were like nothing seen before or since. Astonishing." About her collages Cotter has written, "Whether she sets cut-up bits of handwriting spinning around a reproduction of a Michelangelo sibyl or turns strips of antique German books into suspended grids, she touches on the roots of the collage medium in language and personal history with a reticent originality."
###