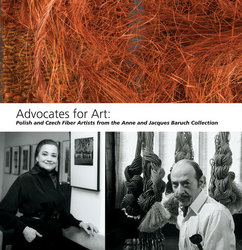 the finest work of tomorrow…not what is known…the new blood.
Wilton, CT (Vocus) October 31, 2010
The 37th catalog produced by browngrotta arts, Advocates for Art: Polish and Czech Fiber Artists from the Anne and Jacques Baruch Collection, will be available from browngrotta arts beginning November 10, 2010.
Prominent art dealers Anne and Jacques Baruch opened the Jacques Baruch Gallery in Chicago in 1967. The Baruch's gallery focused on contemporary art from Central and Eastern Europe, which Jacques once described as "the finest work of tomorrow…not what is known…the new blood."
Many of the works presented at the gallery were by artists who began their careers under Communist occupation. The gallery's early years coincided with worsening political conditions behind the Iron Curtain. On August 20, 1968, the Baruchs left Prague, Czechoslovakia just five hours before Soviet tanks rolled into the city and brutally ended a brief period of democratic reforms.
Making trips behind the Iron Curtain during these years was a complex and, at times, dangerous, way of making a living. Anne traveled, on occasion, with a suitcase with a false bottom.
Despite these difficulties, the couple managed to find a significant entourage of artists. The Baruchs exhibited, collected and promoted these artists, including Magdalena Abakanowicz of Poland (whose tapestry Lune de Miel 2 is installed at Chicago's McCormick Place and whose sculpture installation, Agora, is in Grant Park) and Jolanta Banaszkiewicz (Poland), Zofia Butrymowicz (Poland), Hanna Czajkowska (Poland), Jan Hladik (Czechoslovakia), Luba Krejci (Czechoslovakia), Lilla Kulka (Poland), Maria Laszkiewicz (Poland), Jolanta Owidzka (Poland), Agnieszka Ruszczynska-Szafranska (Poland), Wojciech Sadley (Poland), Anna Sledziewska (Poland), Anna Urbanowicz-Krowacka (Poland) and Krystyna Wojtyna-Drouet (Poland). It is this group of artists whose work is featured in the Advocates for Art: Polish and Czech Fiber Artists from the Anne and Jacques Baruch Collection catalog and in a special exhibition at SOFA Chicago at the Navy Pier that runs from November 4 through November 7, 2010.
The catalog's introductory essay about Jacques and Anne Baruch was written by Christa C. Mayer Thurman, who was the Chair and Curator of the Department of Textiles at the Art Institute of Chicago from 1967 through 2009. Thurman has also written brief essays about several of the 14 artists whose works are featured in the catalog. Thurman is the author and co-author of numerous books about textiles, including, Claire Zeisler: a Retrospective (1979); Textiles: The Art Institute of Chicago (1992); and Lissy Funk: A Retrospective (1989). For European Tapestries in the Art Institute of Chicago (2008), Thurman was the general editor, contributed to the resulting volume as an author and oversaw the collection's conservation. Thurman and her late husband, Lawrence S. Thurman were friends of the Baruchs for many years. Jacques and Lawrence both fought in World War II and suffered compromised health as a result. During Thurman's tenure at the Art Institute several textiles from behind the Iron Curtain entered the collection as gifts, bequests or purchases.
The 76-page color catalog can be ordered from browngrotta arts beginning http://browngrotta.com/Pages/catalogs.php November 10, 2010.
About browngrotta arts
For 20+ years, browngrotta arts has promoted the work of more than 90 contemporary textile artists and fiber sculptors, including Helena Hernmarck and the late Ed Rossbach. browngrotta arts has brought to the US the work of renowned textile artists from abroad. It has published 37 art catalogs and placed art work in dozens of private, corporate and museum collections in the US and abroad.
High Resolution Images Available on Request.
# # #