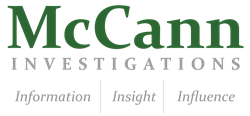 This data can tell us whether the driver was texting, talking on the phone, checking email or surfing the web at the moment the accident occurred
Houston, TX (PRWEB) December 28, 2012
McCann Investigations, a Texas-based private investigations and computer forensics firm is pleased to announce the release of a new case study titled "Mobile Device Forensics in Texting and Driving Cases".
Mobile devices have become the main communication device used with many people preferring to text rather than have a phone conversation. Texting, and other forms of distracted driving such as talking on the phone or surfing the web have been the cause of many accidents resulting in fatalities. Statistics show that more than half of drivers under the age of 35 text while driving. Texting while driving has surpassed driving while intoxicated as the number one killer of teenagers, with almost half of teenagers admitting to being in a car while the driver is texting. This case study highlights the growing concern with distracted drivers and the increase of fatalities resulting from texting while driving. McCann Investigations is a computer forensics provider that has worked on cases involving the extraction and analysis of data from a mobile device in order to determine the activity that was taking place on the device at the moment of the accident.
In order to hide texting activity, a driver may attempt to delete messages. While permanently wiping data from a smart phone is possible, the average user typically is not tech savvy enough to accomplish this. In most cases, a computer forensics examiner will be able to recover deleted data.
"Using mobile device forensics, we are able to create a forensic snap shot of the device at any moment in time." says Daniel Weiss, Managing Partner and Licensed Private Investigator at McCann Investigations. "This data can tell us whether the driver was texting, talking on the phone, checking email or surfing the web at the moment the accident occurred."
About McCann Investigations:
http://www.mccanninvestigations.com
Facebook: https://www.facebook.com/McCannInvestigations
Twitter: @mccanngi
Call us toll-free at 800-713-7670
McCann Investigations is a full service private investigations firm that specializes in computer forensics (including mobile device forensics), digital debugging, network breach detection and remediation as well as traditional private investigations such as under cover work, surveillance and comprehensive background investigations.
McCann Investigations works with law firms, public and private companies, financial companies and individuals with cases such as divorce, child custody, fraud, embezzlement, digital debugging, intellectual property theft and network breach.