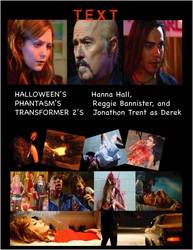 Los Angeles, CA (PRWEB) July 28, 2009
The feature film TEXT, starring Hanna Hall (Forrest Gump and Halloween), Reggie Bannister (Phantasm), and Jonathon Trent (Transformers: Revenge of the Fallen), will celebrate its Los Angeles premier at the Action on Film Festival in Pasadena.
TEXT, a teen horror movie, tells the story of high-school senior Sarah Madison (Hall) as she frantically searches for answers, after the inexplicable deaths of her best friends; each killed shortly after receiving a mysterious text message on their cell phone.
TEXT features original music from Best High School New Artist Beau Osland, VH1's Rock of Love and Daisy of Love's Daisy De La Hoya, and Phantasm's Reggie Bannister.
The film is nominated for Best Horror Film and Best Visual Effects at the AOF Festival.
TEXT premiered to a standing room only audience at the Freakshow Film Festival in Orlando, FL Halloween 2008 and marks the seventh project produced by the independent film company, ICEntertainment. Global film distribution company ITN Distribution, with more than 100 film products, actively promotes TEXT at such prestigious venues as AFM, EFM, NATPE and Cannes Film Market.
One Fangoria reviewer mentioned a perceived similarity between TEXT and the US version of One Missed Call. While TEXT does have cell phones as one of the central characters, that is where the similarity ends. TEXT is a non-adapted, original screenplay, written for a Western audience, set at a typical high school.
TEXT is available for purchase on Amazon.com and BarnesandNoble.com.
TEXT is an exciting and original picture that restores the highly successful concept of a gang of friends searching for answers (Scream, Final Destination, Urban Legends, etc.), updated with the modern twist of text messaging.
We all know teens text instead of talking-now here is a movie that "speaks" to them.
For trailers, music videos, cast biographies and more information, visit txt-n-die.com or TEXT myspace page.
The teen horror movie TEXT, about killer text messages, premiers at the Action on Film Festival, July 29 at 2PM, in Pasadena, CA. For tickets, visit AOFfest.com.
Media Contact: Jennifer Maskrey, Executive Producer
ICEntertainment, LLC
###