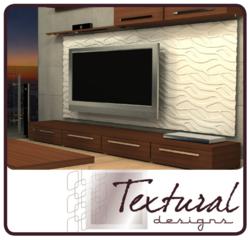 "With our versatile and affordable solution, custom design possibilities...are now accessible to all," said Cameron Scower of Textural Designs.
Orange, CA (PRWEB) August 25, 2011
Textural Designs today announced the launch of its sculptured wall panels, an innovative collection of decorative tiles made from gypsum. The durable, eco-friendly tiles create a visually striking pattern and add dimension and depth to both residential and commercial spaces. Used primarily as artistic statement pieces for accent walls or backsplashes, the interlocking panels are available in both 16"x16" and 32"x32" tiles and cost $15 per square foot.
Textural Designs panels are currently offered in eight distinctive designs falling into three categories of styles including repeating patterns (Charmed, Honeycomb, Infinity, Whim and Shiven), flowing lines (Nature and Zen) and abstractions (Trance). The tiles can be painted to match an existing color scheme or decor, or can be left in their original, white form for a clean, untouched finish.
Textural Design's 3D wall panels can be used for much more than wall coverings, with possible uses including back splashes, shower walls, bath accents, wainscoting, headboards or even artwork. The dimensional tiles can also be fully integrated into existing structures such as cabinets, desks or bars for a one-of-a-kind, custom look.
Textural Designs' decorative wall art can be trimmed on-site to fit any area and is simple to install using the company's step-by-step instructions and installation kit. Customers without any DIY experience or desire to self-install can hire a carpenter, cabinetmaker, tile installer or a general handyman to install the panels. The material of the gypsum tiles is formulated to cut and handle similarly to wood and no special equipment is necessary in addition to standard woodworking tools and a diamond blade. The tiles can be installed on various types of surfaces and following the installation, a filler can be applied for a seamless, smooth appearance.
"We're excited to launch our innovative product and are impressed to see the creative ways in which our customers have used our panels for artistic statement pieces in their homes and businesses," said Cameron Scower, a design team member at Textural Designs. "With our versatile and affordable solution, custom design possibilities that were otherwise out of reach for small business and residential applications are now accessible to all."
Textural Designs wall tiles are made with mineral-based composite, are 100 percent recyclable, Class-A fire rated and free of volatile organic compounds (VOCs) for a clean and healthy living environment. For more information about Textural Designs, please visit the company Web site at http://www.texturaldesigns.com
###