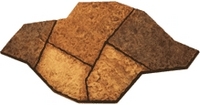 Now anyone can create one-of-a-kind textures reminiscent of nature itself, without all the hassles of hand selecting stone and expenses of masonry
Long Island, NY (PRWEB) September 17, 2008
Texture Plus®, the maker of high impact textured faux panels, introduces the Fieldstone Collection. The Fieldstone Collection is a unique three piece interlocking panel system that makes creating totally seamless stone layouts possible for professionals and do-it-yourselfers alike. Fieldstone panels are highly durable and can be used indoors or out - even in the most extreme of climates.
"Now anyone can create one-of-a-kind textures reminiscent of nature itself, without all the hassles of hand selecting stone and expenses of masonry," says Paul Kampe, President. "Our faux Fieldstone panels are an extraordinarily realistic alternative to traditional stone, and you'll never need to worry about discoloration, unwanted plant growth, or missing pieces again."
Each of the system's three pieces possesses a distinct pattern and easy-to-install interlock design, insuring completely random fieldstone patterns. Fieldstone panels are available in four versatile colors: gray, light gray, light tan, and tan. Individual panels are 2' tall by 4' wide by 3/4" thick, cover approximately 5.8 square feet, and weigh 5 lbs.
Texture Plus® is a high-density design and construction panel with more than 95 faux panels including faux bamboo, thin brick veneer, wood, and faux stone. Developed and made in the USA, Texture Plus® leads the industry in manufacturing high-impact faux panels with extraordinarily realistic dimensional textured surfaces appropriate for indoor or outdoor use. Easy to install, with fire-rated available and less than $6 per square foot in quantity. Order free samples at textureplus.com or call 800.863.8468.
###