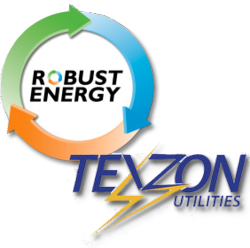 As energy consultants, Texzon has been interested in CHP development for a while, and we've found a great partner in RobustEnergy.
Dallas, TX (PRWEB) February 27, 2013
Texzon Utilities, a national energy management and procurement firm, has announced a strategic partnership with leading Combined Heat & Power (CHP) developer RobustEnergy LLC. The agreement will expand Texzon's product offering, while expanding Robust's development opportunities and energy procurement expertise. The Texzon corporate office and their franchise holders will be able to offer Combined Heat & Power (CHP) solutions to complement their other competitive energy offerings.
RobustEnergy's advanced CHP technologies deliver on-site power generation that captures ordinarily wasted thermal energy for production of chilled water and steam or hot water—for the most economic, ecological and efficient delivery of power, heat, and cooling available today.
This strategic alliance coincides with ramped up government support for CHP projects, with an Executive Order calling for a "national goal of deploying 40 gigawatts of new, cost effective industrial CHP in the United States by the end of 2020."
The affiliation is an important step in Texzon's growth strategy expanding their position as a leader in energy management and environmental initiatives to Industrial, Commercial and Institutional customers.
RobustEnergy CEO Rich Herweck states, "RobustSolutions™ offer businesses the most efficient use of resources that can result in seven-figure or 10% savings on energy bills, increased reliability and energy security during grid-outages."
"The fact that Texzon understands energy efficiency, and has demonstrated ability in bringing various energy conservation measures to its customers; along with high quality customer services are what impressed us with Texzon as an ideal partner," said Lawrence Cantor, Principal at RobustEnergy.
Texzon CEO, Steve Wilson, commented, "As energy consultants, Texzon has been interested in CHP development for a while, and we've found a great partner in RobustEnergy. We are excited about this partnership and ready to present this to our qualified customers because of the environmental benefits, security, lower cost and energy efficiency CHP provides."
About RobustEnergy:
RobustEnergy provides clean, energy efficient, reliable solutions to meet facility energy requirements using advanced combined heat and power (CHP) technologies. CHP industry leader RobustEnergy is helping set policy in Texas and Louisiana with board membership on Texas CHP Initiative. RobustEnergy is an EPA CHP Partnership participant that contributes to national energy efficiency working groups sponsored by the Department of Energy Clean Energy Application Center.
About Texzon:
Texzon is one of the nation's leading energy aggregators. In 2002, Texzon started brokering electricity and natural gas in the deregulated utility markets. Texzon has been recognized in Entrepreneur Magazine as one of the "Hot 100" Fastest Growing Businesses in America. Inc. Magazine also listed Texzon as a top 20 energy companies in "The Inc. 500." Texzon currently operates in Texas, Ohio, Pennsylvania, New Jersey and Illinois. Texzon is also developing a proprietary energy storage technology.