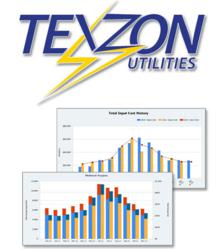 We are very excited to offer this innovative new service...another way of helping our customers save money on energy.
Dallas, TX (PRWEB) November 06, 2012
TEXZON Utilities, Ltd. (TEXZON) announced today the launch of its new Texzon Metrics™ energy management service that allows customers to track their energy use and control their energy budgets.
The software uses data to show customers their energy use patterns and how much they're paying across different facilities. As a result, companies will be able to compare and evaluate power usage efficiency across multiple business locations, with the aim of reducing costs and minimizing risk. The service can also help building owners validate the results of energy reduction projects.
Texzon is rolling out the new service to existing customers. Texzon Metrics™ complements their other energy management services, including sourcing, utility negotiation, rate analysis, risk management, energy efficiency initiatives and bill auditing.
"We are very excited to offer this innovative new service... another way of helping our customers save money on energy," said Steve Wilson, CEO.
Texzon Metrics™ helps customers monitor their entire energy program. All the information is organized into specific and easy-to-understand graphs and reports that can be shared internally or with ownership. This includes:

Energy Analytics – Track usage and cost from corporate down to individual meters
Budgeting – Track preliminary budget over actual budget
Facility Benchmarking – Compare one facility to another using set criteria such as $/sq. ft.
Weather Normalization – Monitor and highlight energy variances due to weather
Interval Data Reporting – View energy data at small increments of time; identify anomalies
Metric Based Validation – Measure variances in cost, usage and demand
Invoice Auditing: Automatically recalculate bill based on tariff; identify bill errors
The savings that can be realized by companies taking advantage of this service can be substantial. A few examples:

Major Health System – Saved nearly $1M from bill auditing
Retail Store Chain – Saved 14% through peak shaving and tariff schedule change
Large Industrial Company – Found a refund of over $350,000 from invoice auditing
Large Church Complex – Saved $3,000 per month through peak reduction
Texzon Metrics™ is a fully secure web-based platform and requires no installation.
About Texzon:
TEXZON is a national energy management and procurement firm helping companies implement strategies to control and reduce energy costs. In 2002, TEXZON started brokering electricity and gas in the deregulated markets. In 2008, TEXZON was recognized in "Entrepreneur Magazine" as one of the "Hot 100" Fastest Growing Businesses in America. "Inc. Magazine" also listed TEXZON as a top 20 energy company in "The Inc. 500." TEXZON currently operates in Texas, Ohio, Pennsylvania and other areas. TEXZON specializes in helping clients procure the best combination of price and contract terms to meet their energy needs. The suppliers, not the customers, pay the company's fees. TEXZON is also a developer of green energy storage technology, as well as offering Commercial LED Lighting and Combined Heat & Power projects in U.S. markets.
Contact:
Steve Wilson, CEO
info(at)texzon(dot)net
http://www.texzon.net