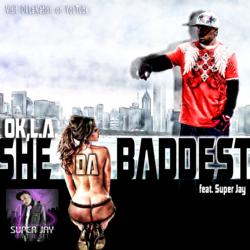 It's My Turn/I'm Going In
Enid, OK (PRWEB) April 14, 2011
Jelani Ajamu Williams, creatively known as OK-L.A., was born in Los Angeles, CA, and raised in Enid, OK. These are the two major cities which have an extreme amount of contribution to the development of OK-L.A. This talented artist is setting the stage for success. With the dream of being one of the world's greatest MCs, OK-L.A. has had the opportunity to share the spotlight with some of the most successful musicians in the business. Founded by Leila Steinberg, Jelani OK-L.A. Williams recorded various songs as a group member of Swerve, produced and managed by Big Syke from Death Row Records. Under Big Syke's management Swerve released songs on various albums with Big Syke and the Outlaws such as Street Commando, Big Syke Daddy, thug Law Ch1. and Ch2. Since the break up of Swerve group members, OK-L.A. has written and recorded over 500 songs as a solo artist. From Jelani to Oklahoma to officially OK-L.A. With plans to buzz the hip hop nation with this exquisite library of music, we have an official statement from the artist himself: "It's My Turn/I'm Going In," says OK-L.A. This prominent freelance artist has taken over one city at a time from Lompoc to Lancaster, CA, back to Enid, OK. Currently OK-L.A. is formally represented by TFL Entertainment who plans to release this vast library of music one album at a time.
This former Thug Life Outlaw has gone solo. President of TFL Entertainment declares a meeting at the finish line. Represented by ThoroughBread Productions, OK.-L.A. released his first single march 7th, 2011, 'She Da Baddest feat Super Jay'. In stores now, check iTunes, Amazon, PureVolume, Jango Airplay, CD Baby, and Rhapsody for online availability. Also available at http://www.reverbnation.com/store/artist_1444503, download the latest OK-L.A. music for only $2.99. She Da Baddest ring-tone and clothing also available. Visit OK-L.A official store for more details. Mix-tape albums are being sold at http://www.whotune.com/okla . Unreleased songs available for download. OK-L.A is expected to launch a 2011 summer tour from Enid, OK, to Los Angeles, CA. Tour dates and venue locations subject to vary, visit oklanation at http://www.reverbnation.com/artist/artist_shows/1444503 . You may also visit Facebook for details. A fan page is also available for your viewing pleasure at http://www.reverbnation.com/oklamusic. Join the Nation, get involved, you don't want to miss this.
OK-L.A. will be performing live August 29th at club Bora Bora in the Oklahoma City Hip Hop Festival, located at 2415 N Walker Ave, Oklahoma City, OK 405-414-5788. Call venue for directions.
This Festival is a very unique opportunity that provides artists with the chance to perform for one of the industry's top executives, Amir Windom. Amir Windom has held executive positions at Bad Boy Records, Def Jam Records and Atlantic Records. Amir has assisted in developing the careers of some of today's biggest stars such as T.I., Lupe Fiasco, Estelle, Bobby Valentino, Trey Songz, Young Jeezy and B. Rossi to name a few. Amir has helped sign 3 artists that have earned gold and/ or platinum status. Amir is also a music supervisor for Sony Pictures, where he helps create songs for Sony Pictures films. He's worked on movies such as Spiderman 3, Why Did I Get Married, Why Did I Get Married 2 and Stomp The Yard 2.
Selected artists will have the opportunity to perform on a high profile event. In addition, artists will have the opportunity to participate in one on one consultations with Amir, where he will provide them with information key to the success of their career.
So come out and join the Nation as OK-L.A performs She Da Baddest feat Super Jay live on stage. Only DA Baddest may attend. OkLaNation Exclusive Fan pass available by pre order only. Passes will be sold for $10.00 and delivered via UPS. For more info send email to oklanation(at)gmail(dot)com with subject title OkLaNation Fan Pass. TFL Entertainment looks forward to your support.
TFL Entertainment
ThoroughBread Productions
###