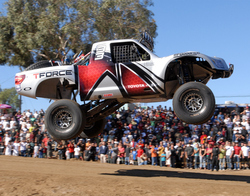 Our goal to merely compete and finish was successful. Now we have set our sights to be a serious contender and eventually capture the overall Baja 1000 win. This is no easy task considering the current level of competition. The San Felipe race may be shorter in duration, but given the difficulty of the course, it will be an excellent test for the team
Vista, CA (PRWEB) March 11, 2008
Today, Danny Sullivan released the TForce Motorsports 2008 race season calendar which will begin with the SCORE San Felipe 250 on Saturday March 15th. The 232-mile sprint will be the first off-road competition of the year for fans to follow the Toyota Tundra Trophy Truck.
Sullivan announced the team will compete in four off-road races this calendar year including all three SCORE International events located on the Baja peninsula. "The SCORE races are our primary focus with special plans for the Baja 1000 in November. Nothing compares to the mystique and difficulty of desert racing in Mexico." Additionally, the team is entering the TSCO "Vegas to Reno" in August, known as the longest off-road race in America.
TForce debuted at the 2007 Baja 1000 in November receiving a warm welcome from Toyota enthusiasts excited to see a Tundra return to the high profile Trophy Truck category. The team launched an aggressive campaign to build the program in six months, just in time to race the 40th Anniversary Baja 1000 event. "Our goal to merely compete and finish was successful. Now we have set our sights to be a serious contender and eventually capture the overall Baja 1000 win. This is no easy task considering the current level of competition. The San Felipe race may be shorter in duration, but given the difficulty of the course, it will be an excellent test for the team" explained Crew Chief Christian Reicher.
The SCORE San Felipe 250 begins at 10 a.m. PST on Saturday the 15th. Race fans can track the team live and get updated race information throughout the day by logging on to http://www.tforcemotorsports.com. The newly redesigned website launched in conjunction with Sullivan's schedule announcement.
About TForce Motorsports
TForce Motorsports, a division of Chupacabra Racing, LLC, was founded in May 2007. The team competes in the SCORE International Desert Series in the #33 Toyota Tundra Trophy Truck, under the direction of Indy Car legend Danny Sullivan and Crew Chief Christian Reicher. The state-of-the-art facilities are located in Vista, California. For team information, schedule and live race updates, visit http://www.tforcemotorsports.com.
Contact:
Emily Miller
916-719-9949
media @ tforcemotorsports.com
TForce Motorsports Company Website
###