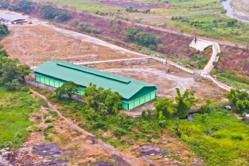 PACIFICTECH is helping TGEG and SBSC by reducing the volume of the Municipal Solid Waste (MSW) through the installation of the Refused Derived Fuel (RDF) machine that will generate income to the constituents of the local government
Clark Freeport, Philippines (PRWEB) November 08, 2011
True Green Energy Group (TGEG) (Frankfurt: TGG.F) Today, TGEG met with members of PACIFICTECH in order to conclude a gargantuan agreement to help the Philippines. Ronald Flynn, the founder of True Green Energy Group stated, "PACIFICTECH is helping TGEG and SBSC by reducing the volume of the Municipal Solid Waste (MSW) through the installation of the Refused Derived Fuel (RDF) machine that will generate income to the constituents of the local government". Refuse-derived fuel (RDF) or solid recovered fuel/ specified recovered fuel (SRF) is a fuel produced by shredding and dehydrating solid waste (MSW) with a Waste converter technology. RDF consists largely of combustible components of municipal waste such as plastics and biodegradable waste.
The Philippines is looming with garbage problems despite the passage of the Ecological Solid Waste Management Act or the Republic Act (RA) 9003. The National Solid Waste Management Commission shows that there are 677 open dumpsites, 343 controlled dumps, and 21 landfills in the country. An additional 307 dumpsites are subject for closure or rehabilitation plans but without definite schedules for enforcement. Mismanagement of waste has serious environmental consequences: ground and surface water contamination, local flooding, air pollution, exposure to toxins, and spread of disease. Many of the disposal sites contain infectious material, thus threatening sanitation workers and waste-pickers.
In the proposed agreement TGEG would purchase 30 machines from PACIFICTECH totaling approximately $240,000,000 million United States dollars. This purchase would cover the delivery and construction of the gasification systems to each one of the 30 sites currently under contract. PACIFICTECH gave a time line that it could build, delivery and deploy the 30 machines in approximately 6 months. It was also discussed that in 45 days Voga Brazil would start constructing its first system under its partnership with TGEG and would be second in line to receive a system behind the San Fernando site in Pampanga Philippines. As part of the agreement True Green Energy Group, CJ consortium, and member's of Voga Brazil would fly to the plant on November 11, 2011 to Korea to see the factory and the working unit as specified in the agreement.
Recognizing the importance of the environment's immediate recovery and effects of improper waste management to the Philippines is mandatory. Renato Lee III, chief executive officer of TGEG, added, "there is a need for understanding and reformation of attitudes and concern towards the protection of the environment. Using our Bio green system and MRF waste segregation system can prevent the impending garbage crisis that will save lives and clean up our country.
Ronald Flynn Founder and Chairman of the board of TGEG, SBSC, and True Bio Electric said, "It is also very important that people understand our goal and our vision. We want to help people live normal lives with good food, clean water, and shelter. The fact is with our new partner CJ consortium and there technology for building affordable homes we will be able to both clean up the landfill sites and help poor homeless families live in real homes in nice areas.
The Philippines has a total population of 82 million, dispersed across thousands of islands, of which forty percent live in slums. It should come as no surprise that these areas are characterized by limited access to basic services, no legal land tenure and insecure shelter generally on the least appealing plots of land. A high percentage of Filipino slum dwellers live in areas where they are vulnerable to natural and man-made disasters such as along shorelines, around dumpsites, under bridges and on hillsides".
True Green Energy Group has already made commitments to use its one billion euro credit line to help the country of the Philippines and change the living conditions of poor Pilipino family's. It should also be known that TGEG has already started to employ poor family's who live on or around the San Fernando landfill site.
True green energy group also signed an exclusive contract with True Bio Electric to deploy additional pelletizing machines for every landfill site that will increase the profits to both its public company and the local municipalities and government.
True Bio Electric is a private company in the Philippines that will use its current financing to build, operate, and deploy RDF converter machines. The RDF will be sold to and used in a variety of ways to produce electricity. It can be used alongside traditional sources of fuel in coal power plants. In Europe RDF can be used in the cement kiln industry, where the strict standards of the Waste Incineration Directive are met. RDF can also be fed into plasma arc gasification modules, pyrolysis plants and where the RDF is capable of being combusted cleanly or in compliance with the Kyoto Protocol, RDF can provide a funding source where unused carbon credits are sold on the open market via a carbon exchange.
TBE will initially deploy 40 units to be used on all TGEG, SBSC, and Voga Brazil landfill sites. The estimated price for the sell of pellets can range from a low price of $60 USD per ton to $300 dollars per ton. Each system should be able to pelletize 1000 tons per day.
In closing Bunny lee the environmental ambassador for TGEG said, "If you want to understand our company then you should know that are company is all about helping people and the environment." "The bottom line is that our country is having a hard time treating and handling the 13 billion kilos of solid waste its 82 million residents generate annually. The Good News is TGEG along side its partner CJ Consortium can help create a better greener Philippines while providing affordable housing to those less fortunate.
This press release contains forward-looking information within the meaning of Section 27A of the Securities Act of the 1933 and Section 21E of the Securities Exchange Act of 1934, and is subject to the safe harbor created by those sections.
Contact: Ronald Flynn
PRINCEFLYNN(at)YAHOO(dot)COM
+639188880017
###