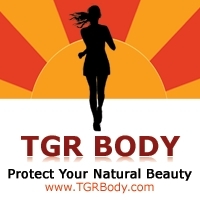 Organic and natural, TGR Body skincare promotes positive body image.
Fort Collins, CO (PRWEB) February 8, 2011
The Girl Revolution and TGR Body insist that all girls have inherent natural beauty. Expressing ourselves and experimenting with our beauty should be fun, not pressure.
Labels
Labels say something about who we are. TGR Body features girls of all ages using their bodies for activities other than being admired by boys and men. TGR Body products feature girls doing what girls do: hiking, snowboarding, running, swinging and playing. Each label encourages the user to develop positive body image by saying something loving, kind and affirming to herself in the mirror. This is a key element to developing positive body image and good self esteem. (Buy some for yourself, Mom, if this is an issue for you. You can't teach what you don't know.)
Ingredients
There are no craptastic ingredients in these products. Many craptastic ingredients in skin care products are suspected to play a part in early puberty. TGR Body ingredients are all natural, organic, clean, high-quality and effective ingredients of the most non-allergenic kind. Using TGR Body products is an effective way to teach our daughters to be kind to their bodies. The packaging is eco-friendly and the products are never tested on animals.
The TGR Body sunscreen line saves lives and protects the skin from damage. UV Rays are cumulative: never leaving the body's cells and mostly acquired as children. TGR Body products are small enough to carry in backpacks and purses, making hourly application easy.
"Children should be applying sunscreen every hour when playing outdoors, including recess and getting to and from school, not just on a summer day at the pool," said Mary Blattner, M.D., Lydia's Style Magazine, Oct. 2010.
About the Company
Tracee Sioux is a nationally recognized gender and parenting expert. She has been writing The Girl Revolution, a website about parenting daughters, since 2007. Tracee Sioux has a book, Love Distortion: Love Stories We Tell Our Girls, due out in April 2011. She thrives on hiking, swimming and bike riding with her husband and two children. Her nine-year-old daughter, Ainsley, is her muse and apprentice. 
For Interviews please contact Tracee Sioux at comments@tgrbody.com. Please visit TGR Body.
###