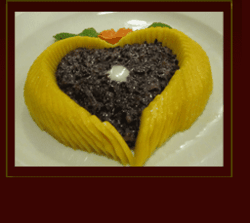 We are always paying great attention to every dish we serve.
(Vocus/PRWEB) February 14, 2011
San Francisco's Suriya Thai Restaurant is offering a special prix-fixe dinner with dishes selected exclusively for Valentine's Day. The meal includes salad, soup, appetizer, entrée, dessert and apertif for only $29 per person. The restaurant, located at 1532 Howard Street in San Francisco's SoMa district, invites couples to share the love with savory Thai cuisine.
"We are always paying great attention to every dish we serve," says owner Suriya Srithong. This special Valentine's Day menu was selected with special romantic presentation, like the heart-shaped sticky rice with mango, and spices that will ignite passion.
The meal begins with the Aromatic Salad for Love, which features shrimp, avocado, tomato, mint, basil, and parsley in lime dressing.
Next comes the Cucumber Soup, which is cucumber pieces and ground shrimp in chicken stock.
For an appetizer, Suriya offers a choice of Money Bags (ground shrimp and chicken in bundle of rice wrappers) or Corn Cake (ground shrimp and corn with fruit salsa).
The special entrée is a choice of Mini Basa (a cutlet piece of Pacific Rim fish in ginger sauce) or
Crab Fried Rice (Brown rice, crab meat, egg and vegetables).
For dessert, lovers can choose between Thai Pumpkin Custard or Black Sticky Rice with Mango, presented in a heart shape.
The aperitif is a Fetzer Sauvignon Blanc or Chandon Champaigne.
The entire authentic San Francisco thai food experience for Valentine's Day is only $29 per person, and reservations are not required.
For more information about the Valentine's menu or another other Suriya Thai services, call (415) 992-7273, visit their website at http://www.sfsuriya.com, or drop by their restaurant located at 1532 Howard Street in San Francisco.
About Suriya Thai Restaurant San Francisco
Suriya Thai Restaurant is a San Francisco Thai restaurant that specializes in traditional Thai cuisine. The restaurant is well-known as one of San Francisco's best restaurants for their pumpkin curry, duck curry, and emerald noodles.
###