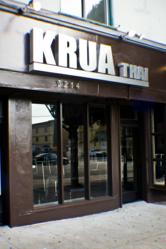 The staff was courteous and not overbearing, pleasant, just like the atmosphere in the place
San Francisco, CA (PRWEB) November 05, 2011
Krua Thai now brings its distinct vision of Thai cuisine to San Francisco's Mission District following a successful grand opening on September 9. Located at 16th Street in San Francisco, Krua Thai serves delicious authentic Thai cuisine in a relaxed, elegant and modern setting. Featuring Thai chefs Somsak and Chef Srichan, Krua Thai offers a wide range of delectable Thai cuisine including Shumai dumplings, their signature Crispy Chicken with Basil, and Pad Thai.
At Krua Thai, in the Mission District of San Francisco they emphasize using only the freshest ingredients in their handmade authentic Thai dishes. Most of their ingredients are grown locally, ensuring that the meals are made fresh. And the results speak for themselves – the restaurant's Authentic Thai Cuisine features distinct, vibrant flavors that will have customers coming back for more. Experience the world of delicious Thai Cuisine with only the freshest ingredients at Krua Thai.
"The staff was courteous and not overbearing, pleasant, just like the atmosphere in the place. Krua Thai doesn't have to try hard to fit in the mission food scene; it's the perfect addition to the growing area," says Jeremy R., a customer from San Francisco.
For more information on the Mission District's Thai restaurant, Krua Thai in San Francisco, call (415) 529-5119 or visit them online at http://www.kruathaisf.com. Krua Thai is located at 3214 16th St., San Francisco, CA 94103.
About Krua Thai
Krua Thai represents the fusion of traditional Thai dishes and a modern elegant setting. Conveniently located in the Mission District of San Francisco, Krua Thai's chic and stylish restaurant makes for an inviting place to dine out. Their friendly and courteous staff enjoy helping people discover the wonderful tastes that Thai Cuisine has to offer.
###