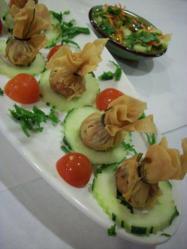 Suriya is not for the dabbler in Thai food, it's for serious Thai food lovers who enjoy and can appreciate the nuances in Thai food.
San Francisco, CA (Vocus/PRWEB) March 18, 2011
Suriya Thai Restaurant in San Francisco is helping hosts create their simple, delicious and beautiful money bags fried dumplings hors d'oeuvre at home. These appetizers are perfect for dinner parties or any other time a simple, delicious, and beautiful appetizer is warranted. The dumplings contain a blend of shrimp, pork, eggs, onions and water chestnuts, all enclosed in delicate rice paper wrappers.
Suriya has posted both the written recipe and an instructional video that demonstrates things like how to perfectly fold and tie the dumplings before frying. Both the recipe and video can be found at http://www.suriyasf.com/recipes.html.
Money Bags Recipe

Two ounces of pork, finely chopped
Four ounces of peeled shrimp, finely chopped
Two ounces of peeled, fresh (or canned) water chestnuts, finely chopped
Two tablespoons of chopped cilantro root
One tablespoon of oyster sauce
Fresh ground pepper
One egg
The long, green tops of 16 spring (green) onions
16 rice paper wrappers, each cut into four, three-inch squares (Chinese egg wrappers can be used, but result will be less delicate)
Mix together all ingredients except the green onion tops and rice paper wrappers squares. Cut each green onion top into four, long strands with the blunt edge of the knife. Soften the strands in boiling water, dipping them in for one second and then setting them aside.
To shape each bag, visit http://www.suriyasf.com/recipes.html for an instructional video. Put a small amount of the shrimp and pork mixture into the center of each rice paper square. Bring corners up and crimp to form a bag. Tie each bag with a strand of a green onion top. Fry the money bags in hot oil until golden brown.
Serve the sixteen money bags on a platter with hot sweet and sour sauce and garnish with colorful vegetables.
Suriya Thai is one of SOMA's best restaurants, and this fun, little dish is a house favorite. The crispy and savory little bags of flavor are sure to appease the eye and the stomach.
"Suriya is not for the dabbler in Thai food, it's for serious Thai food lovers who enjoy and can appreciate the nuances in Thai food," said Suriya Thai Restaurant client James W. "It's not rush in and rush out, but a sit and savor. The food is sophisticated, but not posh, and definitely not your usual run-of-the-mill tasteless red, green or yellow curry kind of place...it's much more than that."
For more information about Suriya Thai Restaurant's money bag recipe or other Suriya Thai Restaurant recipes or dishes, call (415) 992-7273, visit their website at http://www.sfsuriya.com, or drop by their restaurant located at 1532 Howard Street in San Francisco.
About Suriya Thai Restaurant San Francisco
Suriya Thai Restaurant is a popular San Francisco Thai restaurant that specializes in traditional Thai cuisine. The restaurant is well known for their pumpkin curry, duck curry and emerald noodles.
# # #