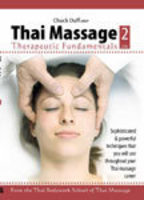 I really enjoy the broad, strong pressure that Julie can provide by using her feet, knees and elbows in combination with the deep stretches during our sessions. I consider it a key part of staying healthy and flexible and playing at my peak.
Evanston, IL (PRWEB) October 7, 2008
Billions are spent annually on the treatment of pain but often with unsatisfactory results. In his latest instructional DVD, internationally recognized Thai massage teacher Chuck Duff emphasizes the fact that many pain issues are a result of physical and energetic imbalances within the body, and that traditional Thai Massage remains one of our most powerful tools in the treatment of pain and dysfunction. A complete, 2.5 hour therapeutic Thai massage sequence is taught in this beautifully produced title, Therapeutic Thai Fundamentals with Chuck Duff (138 minutes, $49.95 SRP).
http://www.thaimassageschool.net/thai-massage-video.php Each technique is explained carefully, and supported with closeups and animations showing the energy lines and points used. This DVD is useful as a learning aid on its own, and is an adjunct to the Level 2 Thai Massage training at Chuck's School, ThaiBodywork School of Thai Massage in Evanston, IL.
Chuck's teaching emphasizes body mechanics, using core energy and sensitivity to the body's language, and places each technique in context as to its relationship to Sen lines, effects on specific muscles and pain conditions. The beautiful production values in this exquisitely produced DVD bring Chuck Duff's expert therapeutic insights to life.
While Thai yoga massage has been in existence for hundreds of years, its therapeutic application has been somewhat opaque to the student, due to a lack of written materials and a tradition of oral teachings. Also, due to the fact that Thailand has no tradition of research in anatomy or dissection, only recently have schools begun to teach Thai techniques in terms of Western anatomy. Chuck integrates western anatomy and clinical principles into his teaching of Thai massage, making it easier for students to relate the techniques to western approaches.
Chuck Duff is on the faculty of Pacific College of Oriental Medicine and founded Thai Bodywork School in Evanston, IL in 2001. Chuck, who has taught over 1,000 practitioners, has based his career on the treatment of pain and has systematically studied the relationship of ancient Thai techniques to western clinical approaches.
Chuck created Clinical Thai Bodywork as an outgrowth of his own very successful practice and research. CTB(tm) combines the techniques of Traditional Thai yoga with the insights of myofascial trigger point therapy, osteopathic principles and acupoints, and is a highly effective treatment for pain and dysfunction.
Chicago Bears quarterback Kyle Orton is a regular recipient of CTB treatments from Julie Pluss, a practitioner in Highland Park, IL. "I really enjoy the broad, strong pressure that Julie can provide by using her feet, knees and elbows in combination with the deep stretches during our sessions. I consider it a key part of staying healthy and flexible and playing at my peak."
According to Chuck Duff, "Thai practitioners over hundreds of years developed clinically effective techniques that mirror some of the western body therapies in use today, such as trigger point therapy. Much of this work has remained obscure because it has been difficult to relate it to western ideas, due to its unique energetic model. CTB uses Thai techniques, presented in a clinical framework, to address myofascial dysfunction, which is responsible for many of the pain symptoms that create such problems and expense in our modern society."
Tina Mann is an orthotist/prosthetist who works therapeutically with Rob Murray, a CTB practitioner in Orlando, FL. "I suffered an incomplete spinal cord injury seven and a half years ago. I have spent countless hours in physical therapy battling muscle weakness, muscle tightness, and joint problems. I often left PT feeling like I had done little to actually fix the problem. Soon after I began seeing Rob, I noticed right away that my muscles were looser and less sore. Later that night I noticed an increase in energy and an overall improvement in my mood. I have less hip internal rotation, my pain is much improved, and my energy is continuing to increase. My colleagues are commenting on how much better I am walking. I stopped PT after starting Thai massage, and have not returned to the doctor."
Filmed in his Evanston, IL, teaching studio, the beautifully produced DVD integrates Duff's knowledge of yoga, martial arts and therapeutic bodywork, presenting over 2 hours of treatment techniques. Viewers will learn how to:
· Give clients as much pressure and stretch as they need, safely and efficiently
· Use specific points in muscles to address the most common pain conditions
· Work with balance, subtlety and sensitivity using the feet and knees
· Move in an efficient, elegant and powerful way while avoiding reliance on muscular strength (a common cause of therapists' work-related injuries)
This video presents the basic ideas of CTB in the context of a 2.5 hour Thai massage sequence. The sequence can be performed intact, or specific segments can be added to a session where appropriate. The DVD is not a replacement for proper training in Thai bodywork, which is a sophisticated healing art that requires personal instruction with a qualified teacher.
Thai Massage: Therapeutic Thai Fundamentals is available from Amazon.com, CreateSpace.com and the Thai Bodywork Web Store.
About Thai Massage
Emerging from a strongly Buddhist tradition, Thai massage is a practical expression of Metta, compassion toward oneself and others. Performed on a mat in comfortable clothes, this "lazy man's yoga" creates a therapeutic "dance" incorporating rhythmic motion, invigorating stretches, palming and thumbing along energy lines to invoke emotional calming and deep relaxation.
About Chuck Duff
Chuck Duff is a Certified Thai massage instructor, with an approach that emphasizes using the innate energies of the body to provide healing in a safe and sustainable way. Thai Bodywork School of Thai Massage, which he founded in 2001, offers more than 250 hours of NCBTMB approved Thai massage and Thai herbal compress certification trainings, and has emerged as one of the leading programs in the United States. A lifelong yoga enthusiast and martial artist, he has a B.A. in Religion and the Humanities from the University of Chicago, focused on Buddhist Studies. He has studied Thai massage therapy with teachers in the United States, Thailand and Canada. His previous DVDs, Traditional Thai Massage: The Northern Style with Chuck Duff (180 minutes, $49.95 SRP), and Thai Massage: An Introduction for the Mat and Table with Chuck Duff (100 minutes, $49.95 SRP) have been very well received with 5-star reviews on Amazon. Excerpts of the Thai Massage DVDs can be viewed on YouTube and have received over 600,000 views.
###