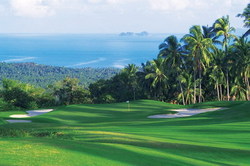 Golfasian's increased business has been achieved through new agency agreements, establishment of additional value added services, and implementation of industry leading customer service and quality operations initiatives.
Bangkok, Thailand (PRWEB) July 25, 2007
Golfasian, a leading Thailand golf tour operator, has expanded its Bangkok operations following a significant 126% increase year-to-date and has established permanent presence in Hua Hin, Pattaya, Phuket and Chiang Mai, all the major Thailand golf centers.
Managing Director, Mark Siegel, said, "In addition to the record growth achieved from the normal travel season, I am very pleased that we are also seeing strong new orders for the traditionally slower summer months, which indicates that the Thailand golf travel market is becoming year round. This facilitates our planning and growth as we have been able to avoid the cyclical nature facing most other Thailand travel providers." Mr. Siegel went on to say, "Golfasian's increased business has been achieved through new agency agreements, establishment of additional value added services, and implementation of industry leading customer service and quality operations initiatives."
"Golfasian's major gain in business demonstrates our commitment to the success of our client's Thailand golf holidays, as well as providing high value golf tours to all Thailand golfing destinations," said Mr. Siegel. "Our continued introduction one-of-a-kind products and services and the strong support of our customers have been instrumental in this advancement."
For example, the company is now offering a range of services to the worldwide golf travel market; including more than 65 championship golf courses, 22 packaged tours covering nine destinations, and multi-city customized golf itineraries with optional excursions. All of the company's tours can be tailored to suit individual and group travelers preferences and budgets. Hand selected excursions allow golfers to experience the best of Thai culture, history, shopping and spas during their golf tours. Furthermore, full time licensed PGA golf professionals are available to assist golf travelers by providing golf lessons to those wishing to learn or improve their golf skills during their stay in Thailand. Both end clients and agents are benefiting from the expanded suite of services.
To further their excellent reputation for service and customer support, the company has more then doubled it's Bangkok headquarters and expanded operations in Phuket, Hua Hin, Pattaya and Chang Mai. New positions have been announced in reservations and customer service areas and the company has implemented a dedicated operations department and golf hot line for clients and agents use. "This expansion will further enhance the company's service reputation and market leading position," said Mr. Siegel.
Golfasian has also spent significant time and resources on enhancing their web presence. In addition to the Golfasian brand, they now own and operate the Phuket golf travel focused Golf Orient, the Thailand golf instruction leader Golf Think, and the internet's first two and only blogs dealing exclusively with golf in Thailand, namely the Thailand Golf Zone and Thailand Golf Blog. Moreover, free regular updates are being provided, including golf course reviews, destination information, guidance on the best places to be located and holiday arranging advice. This comprehensive Thailand golf travel information helps golfers plan their holiday's and ensures chosen vacation components match strict individual selection criteria.
The company believes that more and more people are now using the internet to plan their own vacations and this can be seen in traffic on the company's Golfasian web site, up 192% in June 2007 as compared to one year ago. Golf travelers obtain original destination information directly from the end operator, insuring the widest range of services and best value possible. In addition, golf travelers' needs can be clearly ascertained thus facilitating full customization of golf vacations and avoiding generic mass marketed tours.
The company's online booking and reservation system allows golfers to get immediate pricing and confirmation of custom golf tours and tee times. Registered end users create their own Thailand golf holiday, by selecting travel dates, destinations, preferred golf courses, and accommodations. Online tee off reservations at any of 65 golf courses throughout Thailand can be made using the same system and is another example of Golfasian's focus on customer service.
The Tourism Authority of Thailand (TAT) recognizes the valuable contribution being made by pioneers of Thailand's golfing industry, such as Golfasian, in spearheading the sustainable growth and development of Thailand's golfing and sports tourism industry. Golfasian has been actively promoting greater international awareness of Thailand as a golfing destination, particularly in the United States, Europe, South Africa, and Australia. Tips and helpful visitor information on golfing in Thailand offered by Golfasian are also featured in the special interest section of the TAT News Room web site.
Golfasian maintains contact with 8,000 golfers and agents worldwide and has serviced over 6,500 golfing visitors to Thailand. The company expects that this number will grow by more than 80% over the next 3 years as new golf resorts open and Thailand grows as a major worldwide golfing destination. The company plans continued investment to remain a premier provider of high quality golf holidays in Thailand and remain one of the drivers in the growing Thailand golf travel market.
About Golfasian
A privately-held Bangkok, Thailand based company; Golfasian was established in 1997 in Bangkok and has been recognized as one of the leading inbound golf tour operators in Thailand. The company specializes in luxurious golf vacation tours, selecting the finest hotels, championship courses, and creates their own "best of" optional excursions to ensure all their clients have a memorable Thailand golf vacation.
# # #