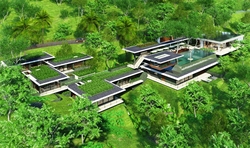 Phuket, Thailand (PRWEB) August 18, 2009
Prism Estates, the developer of ISTANA Phuket real estate project - a collection of 19 individually designed luxury villas created by Gary Fell of GFAB Architects - has completed the final touches to its site infrastructure and construction of the villas has now commenced. Nine of the opulent 4 to 6 bedroom estates have sold and the remaining ten are for sale starting at 111 Million THB ($3.25 Million USD or 2.3 Million EURO). Istana Phuket Brochure
ISTANA Phuket is designed and built to deliver a total "Feeling of Opulence" (Foo) through exclusivity, ultimate quality, contemporary design and environmental harmony. The development is already featured in real estate industry publications as one of Asia's top luxury villa projects.
The recent summer issue of Robb Report's Vacation Homes featured Istana Phuket and Asia's leading real estate industry publication Property Report just named the project one of Thailand's "Top Ten Luxury Properties" in their July 2009 issue.
Delivering Foo starts with an unrivalled 27.5 acre site located on the exclusive northwest corner of Phuket Island overlooking pristine Naithon Beach. Villa plot sizes range from 1,589 to 3,527 square metres (17,100 to 37,960 square feet). Villa living space ranges from 971 to 1,960 square metres (10,450 to 21,100 square feet) and are positioned on the plot to integrate harmoniously with its unique topography, allowing for unrivalled Andaman Sea views and ensuring the most important facet of FOO is fulfilled: total privacy. Istana Phuket Site Plan
Villas include luxury features such as home cinemas, Italian Poliform kitchens and wardrobes, Lutron home automation systems, massive kitchen areas for catering to parties of up to a hundred guests, gymnasiums, fully-fitted Antonio Lupi bathrooms, finely wrought stone and timber floors, Italian cabinetry and joinery, polished terrazzo wall surfaces, exquisite artworks, quality contemporary furniture, southern Italian Travertine marble finishing, separate au pair and staff quarters and walk-in wine cellars. Istana Phuket Video
ISTANA'S newly completed infrastructure goes far beyond the norm in keeping the site's natural beauty except where they could improve on it. The 10-month infrastructure building process involved intensive planning to save the land's old growth trees while improving the site by building two magnificent lakes and a river that flows from the top of the site all the way to the bottom. Innovative Geo-Textile materials were also used to allow for the villas to be built using the natural contours of the land.
Prism Estates, the Hong Kong based developer of Istana, have been involved in real estate projects around the globe ranging from resort properties in Spain, Bali and other parts of Thailand, to land subdivisions in Western Australia and commercial building projects in London.
For complete information visit: Istana Phuket Website For sales inquiries, contact Tom Travers at Indigo Real Estate at +66 (0) 87 034 2090.
###